Publication:
Un instrumento virtual basado en síntesis granular para composición musical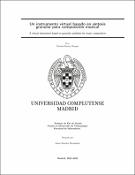 Authors
Advisors (or tutors)
Editors
Abstract
El objetivo principal de este trabajo es desarrollar un instrumento virtual que, mediante un algoritmo de granulación sobre un archivo de sonido, cree nuevos sonidos para la composición musical de cualquier tipo de proyecto, como la composición de música techno, ambiental o para la composición de bandas sonoras para películas o videojuegos. Este modelo también se utiliza para modificar el timbre o duración de los sonidos. Para ello, se utiliza la síntesis granular, un modelo de producción de sonidos basado en la división de uno o varios sonidos existentes en muchos fragmentos o granos acústicos, que al reorganizarse, secuencial o en paralelo, generan un nuevo sonido. En este proyecto se utiliza un sampler para cargar los archivos, siendo este un programa digital que permite cargar un sonido y reproducirlo. Este instrumento también cuenta con un ecualizador, que actúa como una herramienta para controlar la ganancia de las frecuencias del sonido, al igual que un analizador de estas, tanto para el canal de sonido izquierdo como derecho. El instrumento funciona tanto como una aplicación independiente, standalone, como en formato VST, siendo el que utilizan los DAW, uno de los tipos de software más utilizados en la creación musical.
The main objective of this work is to develop a virtual instrument that, by means of a granulation algorithm from a sound file, creates new sounds for the musical composition of any type of project, such as the composition of techno music, ambient or for the composition of soundtracks for movies or video games. Granular synthesis can be used to modify the pitch or duration, of sound. To do this, granular synthesis is used, a sound production model based on the division of one or several existing sounds into many fragments or acoustic grains, which, when reorganized, sequentially or in parallel, generate a new sound. In this project a sampler is used to load the files. A sampler being a digital program that allows you to load a sound and play it. This instrument also features an equalizer, which acts as a tool to control the gain of sound frequencies, as well as a frequency analyzer for both the left and right sound channels. The instrument works both as a standalone application and in VST format, which is used by DAWs, one of the most widely used types of software in music creation.
Description
Trabajo de Fin de Grado en Desarrollo de Videojuegos, Facultad de Informática UCM, Departamento de Sistemas Informáticos y Computación, Curso 2021/2022. Enlace al repositorio de GitHub del proyecto: https://github.com/NicoPast/GranularSampler-TFG