Publication:
Real analytic approximation of Lipschitz functions on Hilbert space and other Banach spaces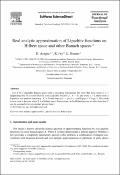 Files
Advisors (or tutors)
Editors
Abstract
Let X be a separable Banach space with a separating polynomial. We show that there exists C >= 1 (depending only on X) such that for every Lipschitz function f : X -> R, and every epsilon > 0, there exists a Lipschitz, real analytic function g : X -> R such that vertical bar f (x) - g(x)vertical bar <= epsilon e and Lip(g) <= C Lip(f). This result is new even in the case when X is a Hilbert space. Furthermore, in the Hilbertian case we also show that C can be assumed to be any number greater than I.
Collections