Publication:
Evolución y procesos de cambio en el ocio de los mayores de 65 años en España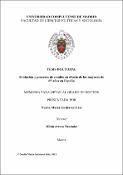 Files
Authors
Advisors (or tutors)
Editors
Publisher
Universidad Complutense de Madrid
Abstract
Los mayores de hoy no son como los de antes, la población de más de 65 años está viviendo un proceso de profunda transformación que, entre otras esferas, afecta a la manera en la que el colectivo se enfrenta a la jubilación. La jubilación (se haya trabajado o no de forma remunerada, sea la propia o la del cónyuge) supone un punto de inflexión vital en la vida de las personas. Tradicionalmente, en muchos de los casos, se ha vivido esta etapa como un momento de retiro, muchas veces obligatorio, con ciertas connotaciones negativas asociadas al sentimiento de dejar de ser útil y productivo, sobre todo en aquellas generaciones mayores para las que el trabajo ocupaba una centralidad mayor que en las jóvenes, y sus vidas y la vida personal y familiar giraba más en torno al trabajo y especialmente en torno al trabajo del varón. Pero esta visión negativa de la jubilación va progresivamente cambiando y surgiendo un perfil de jubilado diferente, más orientado a disfrutar de su tiempo libre, que se aleja progresivamente de concebir la jubilación o la tercera edad como un mero retiro, y dota de sentido, así como a su tiempo libre, para llevar a cabo actividades de ocio que le satisface, le llena y le ayuda a encontrar la realización personal como camino para la búsqueda de la felicidad. Características de una sociedad postmoderna en la que la búsqueda de la felicidad se convierte en un objetivo primordial de la existencia.
Today's elders are quite different from previous generations, the population over the age of 65 is experiencing a process of deep transformation that, among other areas, affects the way they cope with retirement. Retirement (regardless they have been working with a salary or not, or its own or partner's retirement) is a vital turning point in people's lives. Traditionally, in many cases, this stage has been experienced as a moment of withdrawal, often obligatory, with certain negative connotations associated with the feeling of no longer being useful and productive, especially in those generations for which work was the core of their lives and personal and family life turned around work and especially around the work of the male. But these negative vision about retirement is gradually changing, and as a result, there is a new profile of retiree that has little to do with his predecessors, who wants to enjoy his free time, a free time that gives meaning to carry out leisure activities that satisfy them, that use their spare time to find personal realization as a path to the pursuit of Happiness. One of the main characteristics of a postmodern society is the aim of reaching for Happiness as a primary objective of existence...
Description
Tesis inédita de la Universidad Complutense de Madrid, Facultad de Ciencias Políticas y Sociología, leída el 12-07-2021
Collections