Publication:
Impact of Negative Symptoms on Functioning and Quality of Life in First Psychotic Episodes of Schizophrenia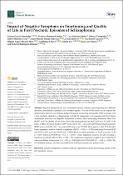 Advisors (or tutors)
Editors
Abstract
Negative symptoms are not considered a unitary construct encompassing two different domains, diminished expression, and avolition-apathy. The aim of this study was to explore the relationships between each domain and psychosocial functioning and quality of life in people with a first psychotic episode of schizophrenia. In total, 61 outpatients were assessed with the Clinical Assessment Interview for Negative Symptoms (CAINS), The Functioning Assesment Short Test (FAST) and The Quality of Life Scale (QLS). The mean global score for CAINS was 21.5 (SD: 15.6), with a CAINS Avolition-Apathy (MAP) score of 17.0 (SD: 11.8), and CAINS Diminished Expression (EXP) score of 4.5 (SD: 5.0). The mean FAST score was 31.9 (SD: 18.9), and 41.1 (SD: 17.9) for QLS. Linear regression analysis revealed a significant (F(4,53) = 15.65, p < 0.001) relationship between MAP and EXP CAINS' score and FAST score. CAINS-MAP was more predictive of FAST scores (β = 0.44, p = 0.001) than CAINS-EXP (β = 0.37, p = 0.007). Linear regression analysis for QLS revealed a significant model (F(4,56) = 29.29, p < 0.001). The standardized regression weight for the CAINS-MAP was around three times greater (β = −0.63, p < 0.001) than for CAINS-EXP (β = −0.24, p = 0.024). The two different domains are associated differently with functionality and quality of life.
Collections