Publication:
La legitimidad moral del nacionalismo subestatal (El caso de España)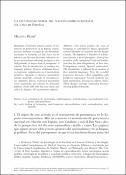 Authors
Advisors (or tutors)
Editors
Publisher
Universidad Nacional Autónoma de México
Abstract
El presente artículo analiza el sentimiento de pertenencia en la España contemporánea mediante el estudio de las identidades nacionales en Cataluña y el País Vasco. La hipótesis es que hay una dicotomía valorativa entre un nacionalismo subestatal prestigioso y otro deslegitimado, al menos desde el franquismo: el español. Tras la introducción, se analizan tres lenguajes políticos. Primero, el llamado discurso progresista, simpatizante con el nacionalismo periférico. Segundo, el discurso nacionalista catalán moderado, centrado en reivindicaciones culturales. Tercero, el discurso nacionalista vasco soberanista, que subraya las demandas políticas. Desde todos ellos hay una visión muy crítica de España y del nacionalismo español.
This article analyzes the sense of belonging in contemporary Spain, specifically national identities in Catalonia and the Basque Country. The hypothesis is that there is a dichotomy between a moral prestigious form of nationalism at the subnational level and another form that has been delegitimized, at least since Franquismo, namely Spanish nationalism. The introduction is followed by an analysis of three political languages. First, the so-called progressive discourse, which sympathizes with peripheral nationalism. Second, moderate Catalan nationalism, focusing on cultural claims. Third, Basque sovereign nationalist discourse stressing political demands.
Collections