Publication:
Blockchain y periodismo en la era digital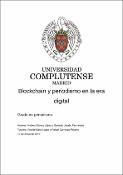 Advisors (or tutors)
Editors
Abstract
En los últimos años, el sector de la comunicación y el mundo del periodismo, han visto debilitadas sus posiciones en el mercado. La crisis económica de 2007 afectó gravemente a este sector, y está siendo uno a los que más le está costando recuperarse. Esto se debe a la transformación digital que está viviendo la sociedad, la cual ha transformado incluso la forma en la que consumimos información. Han aparecido nuevos actores, como las grandes plataformas de redes sociales, pero también ha caído gravemente la financiación de los medios, lo que augura un futuro oscuro para un sector tan necesario para el funcionamiento, crecimiento y desarrollo de cualquier sociedad, la información. Ante este panorama, hemos investigado si una tecnología como blockchain, la cual está revolucionando numerosos sectores, puede ser, con una correcta aplicación, el salvavidas del periodismo.
We have seen how in the recent years, the communication sector and the world of journalism have weakened their positions in the market. The 2007 economic crisis, severely affected this sector, and is still struggling to recover. This is due to the digital transformation happening in society now, which has even transformed the way in which we consume information. New actors have appeared, such as large social media platforms, but media funding has also fallen seriously, which augurs a dark future for a sector so necessary for the functioning, growth and development of any society. Against this background, we have researched whether a technology such as blockchain, which is revolutionizing numerous sectors, can be, with a correct application, the lifesaver of journalism.
UCM subjects
Periodismo
,
Tecnología de la información (Ciencias de la Información)
,
Sistemas de información
Unesco subjects
5506.11 Historia del Periodismo
,
1203.18 Sistemas de Información, Diseño Componentes