Publication:
El dumping ecológico: el papel de las medidas comerciales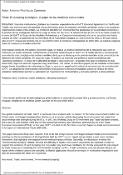 Files
Advisors (or tutors)
Editors
Publisher
Facultad de Ciencias Económicas y Empresariales. Decanato
Abstract
Nuestras instituciones globales de comercio, especialmente el GATT (General Agreement on Tariffs and Trade), han evolucionado de espaldas a la problemática entre el comercio y el medio ambiente, como si no existieran implicaciones reales entre ambas. La evidencia del deterioro medioambiental producida por la actividad económica y la presión de los ecologistas han hecho surgir el tema con fuerza en la década de los 90. En 1971 se había creado en el seno del GATT el Grupo de las Medidas Ambientales y el Comercio Internacional, el cual no se activó sino hasta octubre de 1991, a instancias de los miembros de la Asociación Europea de Libre Comercio (AELC). En ese mismo año el GATT incluyó por primera vez en su informe sobre el comercio internacional de 1990-1991 un capítulo especial sobre el comercio y el medio ambiente
Citation
CMMAD (1987), Nuestro futuro común. Alianza, Madrid, 1988. DALY (1980), Economía, ecología, ética. Fondo de Cultura Económica, México. DALY, H. y GOODLAND, R. (1994), "An ecological-economic assesment of deregulation of international commerce under GATT", Ecological Economics, vol nº 9, january 1994, pp 73-92. EKINS, P. et al (1994), "Trade, environment and development: the issues in perspective", Ecological Economics, vol nº 9, january 1994, pp. 1-12. GARCIA BERCERO, I. (1992), "Comercio y medio ambiente", Información Comercial Española, nº 711, noviembre 1992, pp. 119-133. GATT (1992), El Comercio y el Medio Ambiente. En: El Comercio Internacional 1990-1991. GATT, Ginebra, pp. 21-55. GATT (1994), Acta Final de las negociaciones de la Ronda Uruguay, Ginebra. GONZALEZ, A. (1993), "Comercio Internacional y Medio Ambiente", Comercio exterior, pp. 827-835. MUNASHINGE, M. (1993), "Environmental Issues and Economic Decisions in Developing Countries", World Development, Vol. 21, nº 11, pp. 1729-1748. SENILLOSA (1992), Pobreza, desarrollo y medio ambiente, Deriva, Colección Intermón, Barcelona. STEVENS, C. (1993), "The environmental effects of trade", World Economy, vol. nº16, july 1993, pp. 439-451. Subdirección General de política comercial (1994), "La Ronda Uruguay: Un primer balance", Boletín económico ICE, nº 2396, enero 1994, pp. 3591-3598.