Publication:
Papel del sensor metabólico pas quinasa en el estrés oxidativo y el envejecimiento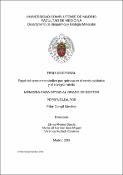 Authors
Advisors (or tutors)
Editors
Publisher
Universidad Complutense de Madrid
Abstract
La PASK es una proteína quinasa con dominios PAS altamente conservada en la evolución, que detecta cambios de parámetros ambientales como el oxígeno, la luz, la glucosa, el ATP y el estado redox. De esta forma, PASK actúa de forma similar a otros sensores de nutrientes como la proteína quinasa activada por AMP (AMPK) y la diana de larapamicina en mamíferos (mTOR).Además, PASK es un sensor regulador del equilibrio energético y metabólico, ya que se ha visto que ratones deficientes en PASK muestran una mejora en la tolerancia a la glucosa y están protegidos frente al desarrollo de obesidad, de esteatosis hepática y de resistencia a la acción de la insulina; tras ser alimentados con dietas ricas en grasa. Por tanto, PASK podría ser una buena diana terapéutica para el tratamiento de la diabetes y/ola obesidad.El hígado es uno de los principales órganos encargados del mantenimiento de la homeostasis de la glucosa en sangre, en respuesta al estado energético. Como consecuencia de su elevada actividad metabólica, genera una gran cantidad de especies reactivas de oxígeno (ROS), producidas principalmente en la mitocondria durante la fosforilación oxidativa. En condiciones fisiológicas, las especies reactivas de oxígeno actúan como moléculas reguladoras de la señalización celular para el mantenimiento de múltiples funciones fisiológicas, sin embargo, su exceso ocasiona estrés oxidativo. El hígado posee potentes sistemas de defensa como las enzimas antioxidantes, que eliminan el exceso de ROS. Sin embargo, un desequilibrio entre la producción de ROS y la respuesta antioxidante podría causar estrés oxidativo, como sucede durante el envejecimiento...
PASK is a protein kinase which contains PAS domains and is highly conserved along evolution. It is able to detect environmental changes like oxygen, light, glucose, ATP andredox state. In this way, PASK might behave like others nutrient sensors such as AMP activated protein kinase (AMPK) and the mammalian target of rapamycin (mTOR). Also, PASK is a regulator of cellular energy and metabolic balance, since it has been reported that PASK-deficient mice show a better glucose tolerance and they are resistant to development obesity, hepatic steatosis and insulin resistance; induced by a high-fat diet (HFD). Therefore, PASK could be a good therapeutic target for the treatment of the diabetes and/ or obesity.The liver is one of the main regulator organ for the glucose homeostasis, in responseto the cellular energetic state. As a result of its high metabolic activity, the liver generates a large amount of reactive oxygen species (ROS) produced mainly in the mitochondria during oxidative phosphorylation. Under physiological conditions, reactive oxidative species act as signal transducers in order to maintain multiple physiological functions. However, an exacerbated ROS production can trigger oxidative stress. The liver has powerful defence systems such as antioxidant enzymes against ROS excess. However, an imbalance between the production of ROS and the antioxidant response could cause oxidative stress, as occurs during aging. In addition, the aging process is characterized metabolically by: insulin resistance, changes in body composition and mitochondrial dysfunction; resulting in an altered homeostatic balance...
Description
Tesis de la Universidad Complutense de Madrid, Facultad de Medicina, Departamento de Bioquímica y Biología Molecular, leída el 18-05-2018
Collections