Publication:
Derecho Procesal Civil. Materiales de estudio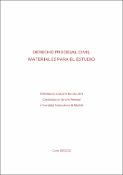 Authors
Advisors (or tutors)
Editors
Abstract
Materiales de estudio de las asignaturas Derecho Procesal Civil I y Derecho Procesal Civil II de conformidad con los planes de estudios vigentes en la Universidad Complutense de Madrid. Teoría General del Proceso Civil. Proceso Civil de Declaración (primera instancia y recursos). Proceso Civil de Ejecución. Medidas Cautelares. Proceso Monitorio. Procesos matrimoniales.
Materials for the study of the courses on Civil Procedure I and Civil Procedure II in the Law Degree of the Complutense University of Madrid. General theory of civil procedure. Declaratory proceedings (first instance proceedings and means of recourse). Enforcement proceedings. Provisonal and protective measures. Order for payment procedure. Family proceedings.