Publication:
Medida de parámetros de colisión de electrones y radicales aniónicos con moléculas : aplicación al estudio de radiosensibilizadores moleculares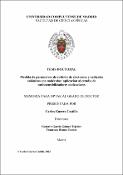 Files
Authors
Advisors (or tutors)
García Gómez-Tejedor, Gustavo
Editors
Publisher
Universidad Complutense de Madrid
Abstract
A lo largo de las últimas décadas, el estudio de las colisiones de iones con moléculas de interés biológico, han atraído el interés de la comunidad científica en diferentes áreas de la ciencia y la tecnología. Especialmente, el estudio de la dinámica molecular presente en los procesos de colisión juega un papel importante en áreas como la astrofísica, física del plasma y la medicina. En este estudio, nos hemos centrado en las interacciones inducidas por electrones secundarios y radicales de O2, debido a su importancia en distintos procesos fisicoquímicos relacionados con fenómenos planetarios y por estar asociados con lesiones biológicas producidas por la radiación ionizante. La radiación interactúa con el tejido humano produciendo una gran cantidad de electrones de baja energía (LEE), los cuales, al colisionar con las moléculas del entorno, generan especies secundarias, como iones o radicales libres, entre ellos las especies oxigenadas altamente reactivas (ROSs). Las ROSs desencadenan procesos físicos, químicos y biológicos que pueden afectar letalmente a las células a través de disociaciones moleculares. Dada la importancia de estos procesos en el desarrollo de modelos de interacción de la radiación con la materia, el presente trabajo se ha dedicado a la obtención una base de datos colisionales (secciones eficaces de interacción) que contribuyan a incluir en dichos modelos el efecto de las ROSs y los electrones secundarios...
Over the last decades, the study of collisions between ions and molecules has attracted the interest of the scientific community in different fields of science and technology. Especially, the study of molecular interactions through several collisional processes plays an important role in astrophysics, plasma physics and medicine. In the present work, we have focused our interest on interactions involving secondary electrons and O2 radicals, mainly because their importance in physico-chemical processes related to planetary phenomena and those associated with the biological damage induced by ionizing radiation in humans. When ionising radiation interacts with living tissues produce a large quantity of low-energy electrons (LEEs). Those LEEs interact immediately with the molecular environment, by generating several secondary species, such as ions or free radicals; among them reactive oxygenated species (ROSs). ROSs radicals trigger physical, chemical, and finally biological processes, which can lead to lethal damage in cells through induced molecular dissociations. Due to the relevance of these processes to develop radiation-matter interaction models, this study has been devoted to obtaining a collisional data base (interaction cross section data) in order to contribute to the inclusion of ROS and LEE effects into these models...
Description
Tesis inédita de la Universidad Complutense de Madrid, Facultad de Ciencias Físicas, leída el 05-07-2022
Collections