Publication:
Experimentación etnográfica: infraestructuras de campo y re-aprendizajes de la antropología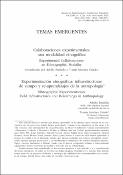 Advisors (or tutors)
Editors
Publisher
Consejo Superior de Investigaciones Científicas
Abstract
¿Cómo sería un ejercicio de experimentación etnográfica en el trabajo de campo? Pareciera que las etnografías de las últimas décadas dedicadas al estudio de los nuevos medios, la ciencia y las organizaciones globales nos ofrecieran la posibilidad, o plantearan la necesidad, de reconsiderar la forma y norma del trabajo de campo etnográfico. Este artículo discute a partir de nuestra experiencia etnográfica lo que designamos como formas de trabajo de campo experimentales. Planteamos nuestro argumento a través de la narración de un proyecto de pedagogía urbana realizado en estrecha colaboración con dos colectivos de arquitectura: una infraestructura urbana de aprendizaje, informada por los lenguajes vernáculos del campo y nuestras conceptualizaciones etnográficas, un gesto recursivo que vuelve nuestros hallazgos etnográficos sobre nuestra propia práctica. Argumentamos que este proyecto nos ofrece la posibilidad de re-aprender y reimaginar nuestra experiencia etnográfica, no mediante la estética tradicional del encuentro etnográfico sino a través de una instalación infraestructural que acondiciona el campo para lo que describimos como un ejercicio experimental. Nuestra evocación de lo experimental no pretende ser un ejercicio de ruptura con el método sino una renovación del vocabulario descriptivo y lenguaje conceptual de los relatos de campo de nuestras etnografías.
What form would an ethnographic experimentation exercise take in fieldwork? Ethnographies studying new media, science and global organizations in recent decades offer the chance, or, indeed, present the need, to reconsider norms and forms in ethnographic fieldwork. Based on our ethnographic experience, this article discusses what we define as experimental forms of fieldwork. We make our case by narrating an urban teaching project conducted in close partnership with two architectural groups: an urban learning infrastructure, referenced by vernacular languages in the field, and ethnographic conceptualisations, a recursive technique in which ethnographic findings cause us to revisit our own practice. We argue that this project gives us chance to relearn and reimagine our ethnographic experience, not through the traditional aesthetic of the ethnographic encounter, but through an infrastructural installation that conditions fieldwork for what we describe as an experimental exercise. Rather than breaking away from method, our approach to the experimental seeks to renew the descriptive vocabulary and conceptual language of field accounts in our ethnographies.
Collections