Publication:
Herramienta lingüística de manipulación de oraciones y escritura de gráficos basada en el procesamiento del lenguaje natural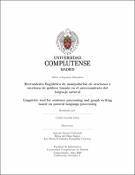 Authors
Advisors (or tutors)
Editors
Abstract
El proceso para analizar un texto, es una tarea de interés entre los lingüistas, ya que con ello se pueden realizar diversas funciones como la posibilidad de encontrar patrones de palabras que se repitan o incluso llegar a simplificar el texto eliminado las frases que no aporten una información relevante. Para conseguir estos objetivos es necesario el análisis de cada palabra del texto y estudiar como dependen las palabras entre ellas. Es por tanto una tarea muy costosa y que puede conllevar bastante tiempo de realizar de una forma manual. El objetivo principal del presente proyecto es tratar de ayudar a los usuarios en estas problemáticas automatizando dos tareas. Por un lado, solucionar el problema del análisis textual, ya que se hará de una forma automática, se estudiarán tanto las palabras que lo componen, como las dependencias que existan entre ellas. Y por otro, se facilitará al usuario la búsqueda de patrones de palabras, y la creación de reglas para la simplificación del texto, en base a los criterios que determine el usuario. Para cubrir el objetivo anterior, se ha implementado una aplicación web que permite a un usuario analizar textos y visualizar los resultados de una manera gráfica mostrando las oraciones como un grafo arbóreo de las palabras que lo componen. Además, mediante la integración de la herramienta Grew, el usuario puede manipular el árbol de análisis generado, utilizando reglas de transformación o bien buscar patrones lingüísticos sobre el texto analizado.
The process to analyze a text is a task of interest among linguists, since various functions can be performed with this, such as the possibility of finding repeating word patterns or even simplifying the text by eliminating phrases that do not provide a relevant information. To achieve these objectives, it is necessary to analyze each word of the text and study how the words depend on each other. It is therefore a very expensive task and can take a long time to perform manually. The main objective of this project is to try to help users in these problems by automating two tasks. On the one hand, solving the problem of textual analysis, since it will be done automatically, will study both the words that compose it, and the dependencies that exist between them. And on the other hand, the user will find the search for word patterns, and the creation of rules to simplify the text, based on the criteria determined by the user. To cover the previous objective, a web application has been implemented that allows a user to analyze texts and visualize the results in a graphic way, showing the sentences as a tree graph of the words that compose it. Furthermore, by integrating the Grew tool, the user can manipulate the generated analysis tree, using transformation rules or search for linguistic patterns on the analyzed text.
Description
Trabajo de Fin de Máster en Máster en Ingeniería Informática, Facultad de Informática UCM, Departamento de Sistemas Informáticos y Computación, Curso 2019/2020