Publication:
La reforma energética mexicana de 2013: análisis de la reestructuración fiscal de Petróleos Mexicanos (2013-2016)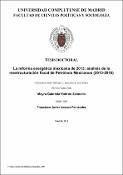 Files
Authors
Advisors (or tutors)
Editors
Publisher
Universidad Complutense de Madrid
Abstract
El sector energético mexicano sufrió una modificación radical para crearse nuevos procesos para su sostenibilidad, lo que implicó no solo la combinación de una innovación empresarial al esquema de su organización en las actividades productivas petroleras, sino que hubo que cambiar la perspectiva histórica y cultural que conlleva la reforma del artículo 27 de la Constitución Política Mexicana. La finalidad de este proyecto de investigación es descubrir si la transformación de Petróleos Mexicanos en Empresa Productiva del Estado en conjunto con el nuevo esquema de contribuciones reaccionará al nivel que la misma reforma energética le trato de concebir, es decir, tener la habilidad de competir y convertirse en una empresa de clase mundial. El objetivo es analizar la nueva reestructuración fiscal de Petróleos Mexicanos, si está en aptitud para participar en los procesos de la licitación pública internacional; descubriendo objetivos específicos, tales como recontar el contexto histórico de la industria petrolera en México; estudiar el contenido de la Reforma Energética de 2013; desentrañar las iniciativas con proyecto de decreto de ley, así como, las iniciativas con proyecto de decreto por el que se reformó, adicionó y derogó preceptos de ley, del sector de hidrocarburos en materia fiscal; interpretar la determinación del cálculo de las asignaciones y contratos para la exploración y extracción de hidrocarburos; discernir el papel de los entes existentes y de nueva creación del sector de hidrocarburos en material fiscal emanados por mandato constitucional; y, examinar el proceso de la Ronda 0, además de la licitación pública internacional de la ronda petrolera subsecuente...
Mexico's energy sector underwent a radical change to new processes for sustainability created, which involved not only the combination of business innovation to outline its organization in the oil productive activities, but that had to change the historical and cultural perspective entails the amendment of article 27 of the Mexican Constitution. The purpose of this research project is to discover whether the transformation of Petroleos Mexicanos in public productive company in conjunction with the new contribution scheme will react to the same level as the energy reform conceived it, that is, the ability to compete and become a world class company. The aim is to analyze the new fiscal restructuring of Petroleos Mexicanos, as well as if is in a position to participate in international competitive bidding processes; reaching specific objectives, such as, retelling the historical context of the oil industry in Mexico; studying the contents of the Energy Reform of 2013; unravel the initiatives with decree law drafts, as well as the initiatives with decree drafts which reformed, added and abolished provisions of law of the hydrocarbon sector in tax matters; interpreting the determination of the allocations and contracts for exploration and extraction of hydrocarbons; discerning the role of existing and newly created entities hydrocarbon sector in tax matters arising under the Constitution; and examining the process of the Round 0, and the ICB of the subsequent round of oil...
Description
Tesis de la Universidad Complutense de Madrid, Facultad de Ciencias Políticas y Sociología, leída el 14/07/2017
Collections