Publication:
Edad y experiencia en el reconocimiento y la descripción de personas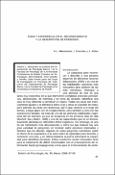 Advisors (or tutors)
Editors
Abstract
En el presente estudio se analizó el papel de la experiencia y la edad sobre la capacidad para describir y reconocer personas. Dos grupos de sujetos con diferente experiencia en tareas de descripción y reconocimiento (civiles y policías) y con dos niveles de edad (jóvenes y adultos) describieron y trataron de reconocer a un hombre y una mujer en sendas ruedas fotográficas de reconocimiento. Los resultados mostraron que los jóvenes policías, con escasa experiencia profesional, y los civiles jóvenes rindieron igual en las dos tareas; mientras que los policías de mayor edad y experiencia profesional mantuvieron su rendimiento en comparación con los civiles de mayor edad que aportaban menos rasgos descriptivos y rindieron peor que los civiles jóvenes en las tareas de reconocimiento. Las estrategias de codificación mixtas, holísticas y por rasgos, en los policías de más experiencia podría servir para minimizar el efecto negativo de la edad sobre la identificación de personas.[ABSTRACT] The present study analyzed the effect of experience and age on the ability to describe and recognize people. Two groups of subjects with different levels of experience on recognition and description tasks (civilians and policemen) and two levels of age (younger and older) described and tried to recognize a man and a woman in two identification trials. Results showed that young policemen, with little professional experience, and young civilians performed equally in the two tasks, while the old experienced policemen maintained their performance compared to older civilians which contributing less descriptive features and performed worse than young civilians in recognition task. The used of mixed coded strategies, holistic and by features, in the most experienced policemen, could serve to minimize the negative effect of age on the identification of persons.
Collections