Publication:
Alcance transformador de género de las agendas y de las políticas de desarrollo y de cooperación internacional: análisis del caso español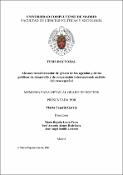 Files
Authors
Editors
Publisher
Universidad Complutense de Madrid
Abstract
La igualdad de género y la defensa de los derechos de las mujeres constituyen un compromiso ampliamente respaldado por la comunidad internacional y por gran parte de los gobiernos en todo el mundo. En la década de 1990 se adoptó internacionalmente el enfoque "Género en el Desarrollo", así como las estrategias de empoderamiento y de mainstreaming de género, como las más efectivas para el logro de la igualdad. Este reconocimiento ha sido posible por la labor del movimiento feminista, que también ha actuado bajo principios cosmopolitas, incidiendo en los espacios internacionales de toma de decisiones. Desde entonces, la aplicación de las estrategias de mainstreaming transformadoras de las jerarquías de poder de género, ha resultado muy desigual, con un alcance limitado y centrado en desarrollo de herramientas técnicas y operativas que, sin embargo, no desafían el marco político existente...
Gender equality and the defense of women's rights are commitments widely supported by the international community and by many governments around the world. During the 1990s, the "Gender in Development" approach -as well as the empowerment and the gender mainstreaming strategies-, was adopted in the international arena as the most effective one for achieving equality. This recognition was made possible by the cosmopolitan advocacy work of the feminist movement, which has also influenced the international decision-making processes. Since then, the implementation of gender transformative mainstreaming strategies has been very uneven, with a limited scope and focused on the development of technical tools that, however, do not challenge the current patriarchal political framework...
Description
Tesis inédita de la Universidad Complutense de Madrid, Facultad de Ciencias Políticas y Sociología, leída el 27-01-2021
Collections