Publication:
El problema de la corrupción en América Latina y la incorporación de la ética pública para su solución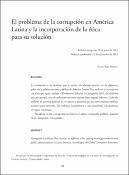 Authors
Advisors (or tutors)
Editors
Publisher
Universidad Autonioma del Estado de México
Abstract
La corrupción es un malestar que anida, con diversos matices, en los diferentes gobiernos y administraciones públicas de América Latina. Este malestar se incrementa con el tiempo según concluye el Barómetro Global de la Corrupción 2010. En el último año, por ejemplo, una de cada cuatro personas reporta haber pagado sobornos. Cada día millones de personas padecen la corrupción y quisieran que sus representantes públicos actuasen para detenerla. Sin embargo, los gobiernos se van sucediendo y las prácticas corruptas continúan. [ABSTRACT] Corruption is a disease that remains, in different colors, among several governments and public administrations in Latin America. According to the Global Corruption Barometer of 2010, this disease increases within time. For example, over the last year one of every four persons point out to have pay some kind of bribery. Millions of persons suffer from a kind of corruption every single day wishing that public officers would react to stop it. However, as governments go on, corruption techniques continue.
Citation
Burke, Edmund (1996), Textos Políticos, Mexico, fce. Calvo, Jose Manuel (2003), "La crisis economica y politica pone en duda el prestigio de California", en Diario El País, 5 de octubre, p. 7 Cumbre de las Americas (2006a), Código Iberoamericano de Buen Gobierno, Montevideo, Uruguay. ——— (2006b), Código Iberoamericano de Gobierno, "Preambulo", Montevideo, p. 1 Diego, Oscar (2009), Ética para corruptos. Una forma de prevenir la corrupción en los gobiernos y administraciones públicas, Bilbao, Desclee de Brower. ONU (Organizacion de las Naciones Unidas) (1975), Resolución 3514, 15 de septiembre. Meyer, L. (2000, 16 de marzo). La corrupcion. Diario Reforma. USAID (United States Agency for International Development) (2004), La corrupción en América Latina: estudio analítico basado en una revisión bibliográfica y entrevistas, usaid, pp. 25.
Collections