Publication:
Respuesta hepática durante la isquemia-reperfusión pulmonar modulada con precondicionamiento isquémico en un modelo experimental de autotrasplante pulmonar en cerdo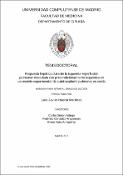 Files
Advisors (or tutors)
Editors
Publisher
Universidad Complutense de Madrid
Abstract
El daño por isquemia-reperfusión es reconocido como un serio problema que acompaña a diversos procedimientos médicos y quirúrgicos habituales tales como la terapia trombolítica, el trasplante de órganos, la angioplastia coronaria y el by-pass cardiopulmonar. La isquemia-reperfusión pulmonar induce una respuesta inflamatoria local en el propio parénquima pulmonar caracterizada por daño alveolar inespecífico, edema pulmonar e hipoxemia. La isquemia-reperfusión pulmonar también induce una respuesta inflamatoria sistémica con afectación de órganos remotos, la cual es incluso más dañina que sus efectos locales. Estudios previos han demostrado en modelos clínicos y experimentales que el hígado es particularmente sensible a la liberación de mediadores inflamatorios, hecho que ocurre tras la isquemia-reperfusión de órganos remotos tales como: riñón, intestino y músculo esquelético. Se ha comprobado que el precondicionamiento isquémico directo es capaz de proteger a diversos órganos frente al daño por isquemia-reperfusión. Nuestro grupo ha demostrado previamente en un modelo de autotrasplante pulmonar en cerdo, que el precondicionamiento isquémico atenúa el daño por isquemia-reperfusión pulmonar mediante la prevención del aumento de los metabolitos de peroxidación lipídica, la activación leucocitaria y las citoquinas proinflamatorias en el parénquima pulmonar...
Ischaemia-reperfusion injury is recognized as a potentially serious problem that is found during a variety of standard medical and surgical procedures, such as thrombolytic therapy, organ transplantation, coronary angioplasty, and cardiopulmonary by-pass. Lung ischaemia-reperfusion induces a local inflammatory response in the pulmonary tissue characterized by nonspecific alveolar damage, lung oedema, and hypoxemia. Lung ischaemia-reperfusion also induces a systemic inflammatory response with damage to remote organs. Previous studies have shown in clinical and experimental models that the liver is particularly sensitive to circulating inflammatory mediators that occur after ischaemia-reperfusion of remote organs such as: kidney, gut and skeletal muscle. Direct ischemic preconditioning has been proved to protect several organs from ischaemia-reperfusion injury. Our team has previously shown that, in a swine model of lung autotransplant, ischemic preconditioning attenuates lung ischaemia-reperfusion injury by preventing the increase in lipid peroxidation metabolites, leukocyte activation and the proinflammatory cytokines in lung tissue. Recently, remote ischemic preconditioning, defined as ischemic preconditioning by repetitive ischemic episodes of an organ remote from the organ to be protected, has been proposed as a surgical tool to prevent cardiac, hepatic or brain ischaemia-reperfusion injury...
Description
Tesis inédita de la Universidad Complutense de Madrid, Facultad de Medicina, Departamento de Cirugía, leída el 09/02/2016
Collections