Publication:
Análisis de la efectividad de un sistema auxiliar de anillas diseñadas para modificar la geometría de scanbodies durante el procedimiento de captación óptica intraoral : estudio in vitro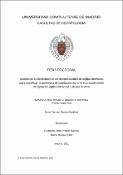 Files
Authors
Advisors (or tutors)
Editors
Publisher
Universidad Complutense de Madrid
Abstract
Introducción: Los modelos digitales generados por escáneres dentales constituyen un requerimiento inicial imprescindible el flujo de diseño y/o fabricación digital de la prótesis dental. En el caso de las rehabilitaciones sobre implantes, la digitalización de aditamentos de escaneado, en inglés intraoral scanbodies (ISBs) permite la orientación relativa de la posición de cada uno de los implantes en el modelo digital sobre el que se diseña la prótesis. Actualmente, el escaneado intraoral de arcadas edéntulas con implantes múltiples se considera uno de los retos más exigentes pues todavía no ha sido demostrada la obtención de modelos fiables de manera repetible para recomendar su uso clínico regular. los contornos anatómicos de bajo relieve y, en general móviles que suelen presentar las arcadas completamente edéntulas, especialmente las mandibulares, generan condiciones desfavorables para la captación óptica intraoral. Así mismo, escanear superficies similares o repetitivas, como aditamentos de escaneado geométricamente parecidos entre sí, incrementa la probabilidad de fusión o "cosido" incongruente entre fotogramas y/o el solapamiento erróneo de referencias ópticas. Estos errores de captación óptica no solo implican un impacto en detrimento de la eficiencia de escaneado, también incrementan potencialmente la introducción de inexactitudes de los modelos generados durante el proceso de reconstrucción.El empleo de técnicas alternativas o complementarias basadas en fotogrametría o radiología 3D pueden contribuir a superar algunas de las limitaciones con respecto a los escáneres intraorales. No obstante, no siempre está justificada la elección de su uso por no estar exentos de otro tipo de inconvenientes incluidos las radiaciones ionizantes y/o la realización de una inversión económica adicional. Así pues, se justifica la realización de una memoria de tesis doctoral orientada a evaluar la efectividad de un sistema auxiliar de modificación geométrica de scanbodies, que tiene por objeto incrementar la predectibilidad del proceso de escaneao intraoral, así como la fiabilidad de los modelos resultantes en términos de efectividad sin recurrir a pruebas invasivas o complementarias al propio escaneado óptico intraoral.Objetivos: La finalidad de este trabajo es evaluar la efectividad en términos de eficiencia y eficacia del empleo de un sistema auxiliar de anillas experimental para la modificación geométrica de scanbodies idénticos sobre un modelo mandibular edéntulo.
Background: Intraoral scanners (IOSs) provide virtual models that enable a digital workflow for dental prosthetic design and/or fabrication. Intraoral optical acquisition of intraoral scanbodies (ISBs) allows relative orientation of each implant position in the virtualmodel on which the prosthesis is designed. Currently, fully intraorally scanning of edentulous arches with geometrically identical or similar ISBs is considered a controversial indication. Thus, this method is not the recommended in these cases due to the poor predictability of the optical behavior of the IOSs, as well as the inconsistency of the reported results regarding the accuracy of the resulting models. Numerous devices, tecniques, and auxiliary resources have been developed with the aim of optimizing the optical behavior of IOSs, as well as the accuracy of the resulting models in terms of efficiency and efficacy. Completely edentulous arches, present anatomical patterns that could imply unfavorable optical scanning conditions, especially in the mandible. These conditions become even more pronounced when scanning flat ridges or mobile surrounding tissues. Furthermore, the presence of repetitive on-surface patterns, such as geometrically similar ISBs, increase the risk of introducing scanning errors due to overlapping. These optical problems arise due to stitching inconsistencies when considering mismatched references between sequential scan frames. Optical acquisition errors not just have a negative impact on scanning efficiency, but also may also introduce inaccuracies in the models generated during the reconstruction process. Alternative or complementary techniques to intraoral scanning with IOS, such as those based on photogrammetry, or 3D radiology, may help to overcome some of the limitations. However, their use is not always justified, as the involve other disadvantages, such as exposure of the patients to ionizing radiation and/or a significant implementation cost. Therefore, this PhD research is justified with the objective to assess the efectiveness of an auxiliary system designed for geometric modification of identical ISBs, which aims to improve intraoral scanning effectiveness, as well as the accuracy of the resulting models in terms of efficiency. .Objectives: The aimof the present reserch is to evaluate the effectiveness of intraoral scanning with identical multiple scan bodies (ISBs) using customized over scan body rings (COR) as an auxiliary system.
Description
Tesis inédita de la Universidad Complutense de Madrid, Facultad de Odontología, Departamento de Odontología Conservadora y Prótesis Bucofacial, leída el 24-05-2022
Collections