Publication:
El paradigma de dOCUMENTA (13) a partir de la voz de Enrique Vila-Matas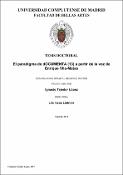 Authors
Advisors (or tutors)
Editors
Publisher
Universidad Complutense de Madrid
Abstract
Partiendo de la idea de dispositivo foucaultiano como una red de elementos heterogeneos, relacionados entre sí para configurar un saber que determina los efectos de verdad y realidad3, analizaremos el papel que juega el comisario, el espectador y el artista en la exposición como dispositivo de conocimiento que promulga nuevos sentidos para la verdad y la realidad. Esta alteración del dispositivo político se debe a la similitud que existe entre la exposición y los modelos de comunicación. Toda exposición artística, entendida como dispositivo de conocimiento, consiste en la disposición de objetos artísticos -materiales o inmateriales-articulados (canal) por el comisario (emisor) para hacerlos dialogar con el espectador (receptor) y generar un sentido ulterior (destino). La estructura final ofrece distintos tipos de acercamientos o lecturas determinadas por los planos desde los que se accede, y éstos, son conformados a su vez por la intención del curador y el discurso que pone en juego de los artistas expuestos. Así, el espectador que participa de esta acción comunicativa, abrirá un campo de posibilidades en las que operará su pensamiento para extraer reflexiones propias, nuevos sentidos que hará circular en la esfera pública infiriendo en la intersubjetividad –conjunto de saberes individuales que los sujetos comparten al pertenecer a una misma comunidad-. Basándonos en dOCUMENTA 13 (Kassel 2012) como paradigma de dispositivo expositivo, debido a su carácter heterogeneo y relacional, analizaremos las intenciones de la curadora, Carolyn Christov-Bakargiev, desde las impresiones de Enrique Vila-Matas recogidas en su obra Kassel no invita a la lógica. El autor nos servirá de figura transversal como espectador, cerrando así el triángulo compuesto por la comisaria de d(13), las obras seleccionadas por Vila-Matas y los saberes que adquiere como receptor de la exposición...
Departing from the foucaultanian`s dispositif as a network of heterogeneous, engageded elements amongst each others, to constitute knowledge that itdetermines <<truth>> and <<reality>>, we will analyze the curator`s role, theviewer and the artist in the exhibition as knowledge`s dispositive that promulgatesnew senses for the truth and the reality. This alteration of the political dispositifowes to the familiarity that exists between the exhibition and the models of communication. Every art exhibition, understood as a knowledge dispositive, consists in the disposition of both material or immaterial objects articulated between each other to make them talk. The final structure offers different types of approaches or readings determined by the planes from where it is accessed, and these are shaped in turn by the intention of the curator and the speech that brings into play the exposed artists. Thus, the spectator who participates in this communicative action, will open up a range of possibilities in which his thinking will operate to extract genuine thoughts, new meanings that he will make circulate in the public sphere inferring in the intersubjectivity – group of individual knowledges that subjects share at belonging to the same commmunity. Based on 'dOCUMENTA 13' as paradigm because of its relational and heterodox nature, we will analyze the intentions of the curators from the impressions of Enrique Vila-Matas collected on his work Kassel does not invite to logic. The author will serve us as a transversal figure as spectator closing thereby the triangle composed of 'dOCUMENTA 13' curators, the selected works by Vila-Matas and the knowledge that he acquires as receiver of the exhibition...
Description
Tesis inédita de la Universidad Complutense de Madrid, Facultad de Bellas Artes, leída el 9 de marzo de 2017; presidente, Mercedes Replinger González.
Collections