Publication:
Estudio experimental y teórico de sustancias con interés biológico y nutricional: espectroscopía Raman e infrarrroja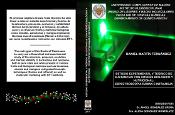 Files
Authors
Advisors (or tutors)
Editors
Publisher
Universidad Complutense de Madrid
Abstract
Es bien sabido que los carotenoides son compuestos que poseen un alto poder antioxidante y su presencia en la dieta humana tiene grandes beneficios no solo desde el punto de vista nutricional, sino también en la prevención de enfermedades. A modo de ejemplo, se sabe que el β-caroteno es el principal precursor de la vitamina A y que el licopeno juega un papel fundamental en la prevención del cáncer de próstata. Dado que los seres humanos no son capaces de sintetizar carotenoides y por ello deben ingerirlos en la dieta, resulta de enorme interés el estudio de dichos compuestos en frutos. Objetivos El principal objetivo de esta Tesis Doctoral ha sido llevar a cabo un estudio experimental y teórico de la estructura, presencia, evolución y estabilidad térmica del β-caroteno y el licopeno, en estado puro y en diversos frutos y matrices biológicas como tomates, zanahorias y mangos empleando técnicas espectroscópicas (Raman e Infrarrojo) así como modelización molecular con métodos DFT...
It is well known that carotenoids are compounds that possess a high antioxidant power and that their presence in the human diet has great benefits not only from the nutritional point of view but also in disease prevention. For example, β-carotene is known to be the main precursor of vitamin A and lycopene plays a key role in the prevention of prostate cancer. Since humans are not able to synthesize carotenoids and therefore they have to intake such pigments, the study of these compounds in fruits seems crucial from the nutritional and medical point of views. Objectives The main goal of this Doctoral Thesis was to carry out a theoretical and experimental study of the structure, presence, evolution and thermal stability of β-carotene and lycopene, both in pure state and when present in various fruits and biological matrices such as tomatoes, carrots and mangoes using spectroscopic techniques (Raman and infrared) as well as molecular modeling with DFT methods...
Description
Tesis de la Universidad Complutense de Madrid, Facultad de Ciencias Químicas, Departamento de Química Física I, leída el 01-12-2017
Collections