Publication:
La trayectoria social y educativa de los estudiantes extranjeros con diversidad funcional y su inclusión en la Universidad Complutense de Madrid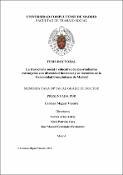 Files
Authors
Editors
Publisher
Universidad Complutense de Madrid
Abstract
Los objetivos que han guiado esta investigación han sido conocer los principales antecedentes biográficos de los estudiantes universitarios extranjeros con diversidad funcional, y analizar su situación de inclusión social y educativa en la Universidad Complutense de Madrid. En función de estos objetivos hemos utilizado técnicas de carácter cualitativo, en concreto, la historia de vida y la entrevista personal, dirigidas a los estudiantes y a los técnicos de primera atención respectivamente, y la encuesta, en el caso de los profesores coordinadores de la Oficina para la Inclusión de Personas con Diversidad. Los resultados que hemos obtenido muestran que conocer el origen de los estudiantes ayuda a comprender la situación de estos universitarios. Hay que destacar que los progenitores con un mayor capital cultural y económico podían favorecer la inclusión social y educativa de sus hijas e hijos...
The aims of this research are to identify the main features of the personal backgrounds of foreign university students with functional diversity and to analyse their situation in terms of social and educational inclusion at Complutense University, Madrid. With these aims in mind we have used qualitative research techniques, specifically life stories and personal interviews (directed at students and primary care technicians, respectively), and surveys (in the case of coordinating teachers at the Office for Inclusion of People with Diversity). Our results show that knowledge of students' origins helps in understanding the situation at these university. It is noteworthy that parents with greater cultural and economic capital were able to facilitate the social and educational inclusion of their children...
Description
Tesis inédita de la Universidad Complutense de Madrid, Facultad de Trabajo Social, leída el 27-09-2019
Collections