Publication:
Mantener las formas: La academia en y desde las prácticas artísticas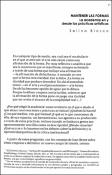 Authors
Advisors (or tutors)
Editors
Abstract
Este texto trata de imaginar respuesta a preguntas como: ¿Por qué elegir la academia como territorio en el que o desde el que situar intervenciones o prácticas artísticas? ¿Quiénes lo hacen? ¿Con qué medios, con qué formas? ¿Y qué es lo que conocemos de ella, de sus espacios, sus herramientas, sus agentes o su producción a través de estas prácticas, incluso cuando se limitan a gestos tan aparentemente sencillos como su descripción? ¿Dónde situarlas? ¿Qué ocurre si lo hacemos en los debates sobre la definición y la operatividad política de la crítica institucional?.
This text tries to imagine answers to questions like: Why single out academia as the territory in which, or from which, artistic interventions or practices take place? Who are the artists who make this choice? What resources and which forms do they use to do so, to make works of art about academia? And what do we get to know about this specific institution, academia, about its spaces, its tools, its agents (students, professors) or what it produces via these artistic practices? Where should such practices be placed? What happens if we place these works of art about academia within the debates on the definition and the wider political effectiveness of institutional critique?.
Description
Este texto,"Mantener las formas. La academia en y desde las prácticas artísticas", es el capítulo del libro editado por BLASCO, Selina. Investigación artística y universidad. Documentos para un debate. Madrid: Ediciones Asimétricas, 2013, pp. 11-43, Disponible en: http://eprints.ucm.es/27107/ Obra publicada en el marco de la actividad del Proyecto de Innovación y Mejora de la Calidad Docente 2013/86 de la Universidad Complutense de Madrid: La investigación artística en el Espacio Europeo de Educación Superior.
Collections