Publication:
Mel Ainscow. Panorámica y retos para la inclusión social y educativa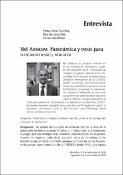 Advisors (or tutors)
Editors
Publisher
Cuerpo Académico Educación y Desarrollo Humano, Facultad de Humanidades, Universidad Autónoma de Chiapas
Abstract
Entrevista sobre inclusión social y educativa a Mel Ainscow, profesor emérito de la Universidad de Mánchester, profesor de educación en la Universidad de Glasgow, profesor adjunto en la Universidad de Tecnología de Queensland y consultor permanente de la UNESCO.
Interview on social and educational inclusion with Mel Ainscow, Emeritus Professor at the University of Manchester, Professor of Education at the University of Glasgow, Adjunct Professor at Queensland University of Technology and permanent consultant to UNESCO.
Citation
• AINSCOW, M., Dyson, A., Goldrick, S. y West, M. (2012). Developing equitable education systems. London: Routledge. • BOOTH, T. y Ainscow, M. (2002). The Index for Inclusion; Developing Learning and Participation in Schools (2ª Edición). Bristol: Centre for Studies on Inclusive Education. • ROSENHOLTZ, S. J. (1989). Teacher's Workplace: The Social Organization of Schools, White Plains, NY: Longman. • SCHEIN, E. (1992). Organisation Culture and Leadership (2ª Edición). San Francisco: Jossey-Bass. • UNESCO. (2017). A guide for ensuring inclusion and equity in education. Paris: UNESCO.
Collections