Publication:
El refuerzo de las brechas económicas y digitales en el consumo personal online en España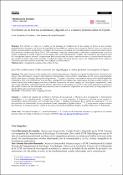 Advisors (or tutors)
Editors
Abstract
Este artículo se centra en el análisis de los procesos de virtualización de las compras de bienes de uso personal, profundizando en los grados con los que los españoles han trasladado sus compras desde el espacio físico al virtual, así como en los perfiles sociodemográficos más proclives a virtualizar dichos procesos de compra. Los resultados parten de una encuesta representativa de la población española realizada en 2016 a 2800 internautas, y han sido posteriormente actualizados y complementados a través de fuentes secundarias. El estudio evidenció que la compra online estaba estrechamente vinculada a la existencia de una categoría social de "cosmopolitas digitales urbanos", compuesta por individuos jóvenes, con buena situación económica y altos niveles de educación, que conciben el medio online como expresión y símbolo de estatus. Por contra, los más reacios a la virtualización de las compras se caracterizan por estar sometidos a una doble brecha digital y socioeconómica.
This article focuses on the analysis of the virtualization processes of purchases of goods for personal use, delving into the degrees with which Spanish consumers have transferred their purchases from physical to virtual space, as well as the sociodemographic profiles most prone to virtualize these purchasing processes. The results come from a representative survey of the Spanish population conducted in 2016 with 2,800 Internet users and have subsequently been updated and supplemented through secondary sources. The research showed that online shopping was closely linked to the existence of a social category of "urban digital cosmopolitans", made up of young individuals, with good economic situation and high levels of education, who conceive the online medium as an expression and symbol of status. On the other hand, those most reluctant to virtualization of purchases are characterized by being subjected to a double digital and socioeconomic divide.
Citation
• Alonso, L. E. (2004). Las políticas del consumo: transformaciones en el proceso de trabajo y fragmentación de los estilos de vida. Revista Española de Sociología, 4(1), 7-50. • Arce-Urriza, M., & Cebollada, J. (2013). Elección de canal de compra y estrategia multicanal: internet vs. tradicional. Aplicación a la compra en una cadena de supermercados. Cuadernos de Economía y Dirección de la Empresa, 16(2), 108-122. • Buitrago, L.F. (2008). Cultura del consumo y nuevas tendencias tecnológicas informáticas. Gestiópolis. https://www.gestiopolis.com/cultura-consumo-nuevas-tendencias-tecnologicas-informaticas/ • Dans, E., & Allen, D. B. (2002). B2B e-marketplaces: Percepción de la propuesta de valor en un mercado incipiente. Instituto de Empresa. • Echeverría, J. (1995). Cosmopolitas domésticos (Vol. 163). Barcelona: Anagrama. • Eco, U. (1965). Apocalípticos e integrados. Barcelona: Lumen. 1965. • Eduard, C. F., & Frederic, M. V. (2011). La gestión del supermercado virtual: tipificación del comportamiento del cliente online. Investigaciones Europeas de Dirección y Economía de la Empresa, 17(1), 93-112. • INE (2019). Gasto en consumo final de los hogares, 2019. • IAB Spain. (2020). Asociación mundial de comunicación, publicidad y marketing digital. VII Estudio Anual de eCommerce en España 2020. https://iabspain.es/estudio/estudio-anual-de-ecommerce-2020/ • Karsaklian, E. (2012). Comportamento do consumidor. 2ª. Edição, São Paulo: Atlas. • Keng, A., Tang, Y., & Ghose, S. (2003). Typology of online shoppers. Journal of consumer marketing • ONTSI, 2019. Observatorio Nacional de las Telecomunicaciones y la SI. El Comercio Electrónico B2C en España 2019 (Edición 2020). Ministerio de Asuntos Económicos y Transformación Digital. https://www.ontsi.red.es/sites/ontsi/files/2020-11/B2C2019_Ed2020_0.pdf • Peña-García, N., Gil-Saura, I., & Rodríguez-Orejuela, A. (2018). Emoción y razón: El efecto moderador del género en el comportamiento de compra online. Innovar, 28(69), 117-132. • Prensky, M. (2010). Nativos e inmigrantes digitales. Distribuidora Sek. • SEUR, 2019. E-shopper Barometer 2019. https://blog.seur.com/e-shopper-barometer-2019-compradores-habituales/
Collections