Publication:
Caracterización del riesgo de exposición al parásito de pescado "Anisakis" sp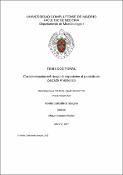 Files
Authors
Advisors (or tutors)
Editors
Publisher
Universidad Complutense de Madrid
Abstract
Uno de los agentes más relevantes causante de zoonosis por parásitos de pescado son los nematodos de la familia Anisakidae.La especie que se ha descrito más frecuentemente en humanos es el A. simplex.Las enfermedades que puede causar son debidas a la infestación después de la ingestión de larvas viables o a reacciones alérgicas (hipersensibilidad) por exposición a material parasitario sin requerir la presencia de larva viva,por lo que la evaluación de la exposición tiene características claramente distintivas en las dos entidades. Los alérgenos de A. simplex son muy resistentes al calor y a la congelación,de hecho, se ha descrito persistencia de alérgenos y antígenos de Anisakis sp. tras realizar diversos tratamientos donde se someten las larvas al efecto del calor o de la congelacióne incluso en productos procesados de forma industrial; estos tratamientos aplicados a los productos de la pesca matan al parásito pero puedeque no eviten el riesgo de alergiaen los consumidores.Para evaluar la exposición a alérgenos del parásito hay que tener en cuenta también el consumo de productos de pesca que representan una fuente insospechada de alérgenos como son los productos muy elaborados, los productos envasados y los pescados de acuicultura. En el caso de los pescados de acuicultura, la ausencia de larva viva no excluye la posibilidad de que pueda detectarse en el músculo del pescado alérgenos procedentes de los piensos que hayan sido elaborados con harinas de pescado parasitados. El nematodo Anisakis sp.es el único organismo conocido que es a la vez un parásito helminto y un alérgeno presente en productos de la pesca, por lo que el sistema inmune responde al Anisakis sp. como un parásito invasor y como un alérgeno...
One of the most important fish parasites causing zoonosis are the nematodes belonging to the Anisakidae family. The species most often described in humans is the A. simplex. Adverse reactions are due to infection after ingestion of viable larvae or to allergic reactions (hypersensitivity) by exposure to parasite material without requiring the presence of live larvae. As a result, assessment of exposure has different characteristics in the two entities. A. simplex allergens are very resistant to heat and freezing. In fact, it has been described the presence of allergens and antigens of Anisakis sp. after performing various treatments subjecting larvae to the effect of heat or freezing and even in fishery products industrially processed; these treatments applied to fishery products kill the worm but may not prevent the risk of allergies in consumers. To assess the exposure to parasite allergens it should also be taken into account the consumption of fishery products that represent an unsuspected source of allergens such as highly processed products, i.e. canned products and fish aquaculture. In case of aquaculture fish, the absence of live larvae does not exclude the possibility that allergens can be detected in the muscle of fish due to the carry-over from the feed which has been produced with flour and oil from parasitized fish. Anisakis sp. is the only known organism that is both a helminth parasite and an allergen present in fishery products, so that the immune system responds to Anisakis sp. as an invading parasite and as an allergen...
Description
Tesis inédita de la Universidad Complutense de Madrid, Facultad de Medicina, Departamento de Microbiología I, leída el 15-11-2016
Collections