Publication:
RPClass - Aplicación para gamificación del aula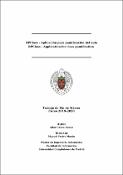 Authors
Advisors (or tutors)
Editors
Abstract
Hoy en día la tecnología está cada vez más presente en la educación, y la enseñanza se encuentra en constante evolución para adaptarse e integrar los últimos avances tecnológicos. Entre los progresos en e-learning que más relevancia y popularidad han adquirido en los últimos años destaca la gamificación, entendida como la aplicación de mecánicas de juegos al ámbito educativo-profesional. El uso de gamificación ha demostrado efectos positivos sobre la motivación, y por lo tanto una mayor atención y mejor aprendizaje. RPClass es una aplicación web diseñada para la gamificación de actividades en el aula. Permite organizar competiciones en las que los estudiantes, organizados por equipos, deberán superar las pruebas que se les planteen para alcanzar el puesto más alto del ranking. Esto a su vez permitirá a los alumnos desbloquear varios logros, tanto individuales como grupales, como recompensa a su esfuerzo. Esta plataforma permite a los profesores que la usen generar perfiles para sus alumnos, organizar equipos y concursos, y crear pruebas asociadas, que serán evaluadas de forma automática, generándose resultados listos para su análisis. El proyecto ha sido diseñado como una herramienta de apoyo a la labor docente, ayudando a la evaluación por parte del profesor de los conocimientos adquiridos, y como un medio para promover la motivación e interacción entre los alumnos. A través de esta aplicación se espera conseguir clases más dinámicas y participativas fomentando los valores de constancia, competitividad y trabajo en equipo.
Technology is becoming ever more present in education, and teaching is constantly evolving to adapt and integrate the latest technological innovations. Among popular e-learning innovations, gamification stands out, understood as the application of game mechanics to educational-professional fields. The use of gamification has shown positive effects on motivation, promoting greater attention and better learning. RPClass is a web application designed for classroom gamification. It allows organizing competitions in which students, grouped in teams, will have to pass contests to reach the highest position in the ranking. At the same time this will allow students to unlock several individual and group achievements as a reward to their effort. This platform allows teachers using it to generate profiles for their students, organize teams and contests and create tests, which will be automatically graded, generating results ready to be analyzed. The project has been designed as a supporting tool for educational work, helping teachers to evaluate the acquired knowledge, and as a means to improve motivation and interaction among students. Through this application, we expect to achieve more dynamic and participatory classes while promoting values of perseverance, competitiveness and teamwork.
Description
Trabajo de Fin de Máster en Máster en Ingeniería Informática, Facultad de Informática UCM, Departamento de Ingeniería del Software e Inteligencia Artificial, Curso 2019/2020