Publication:
Charles Bonnet syndrome in a child with congenital glaucoma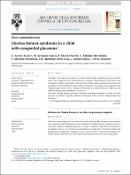 Advisors (or tutors)
Editors
Abstract
Case report: The case is presented of a 12 year-old boy with congenital glaucoma and low visual acuity diagnosed with Charles Bonnet syndrome. This consisted of the acute onset of complex, repetitive, persistent, and with visual hallucinations (people, brooms and coffeemakers) of self-limited evolution without treatment. The patient was diagnosed with congenital glaucoma at 3 years of age, and subjected to a trabeculectomy in right eye, and trabeculectomy and keratoplasty in his left eye. Discussion: Charles Bonnet syndrome symptoms have been described in adults, but their presence in children is poorly reflected in literature, with unknown characteristics and prevalence.
Caso clínico: presentamos el caso de un niño de 12 años de edad con glaucoma congénito y baja agudeza visual, diagnosticado de síndrome de Charles Bonnet, consistente en alucinaciones visuales complejas (personas, escobas y cafeteras), repetitivas, persistentes y de aparición brusca, con evolución autolimitada sin tratamiento. El paciente había sido diagnosticado de glaucoma congénito a los 3 años de edad e intervenido mediante trabeculectomía en ojo derecho y trabeculectomía y trasplante de córnea en ojo izquierdo. Discusión: el síndrome de Charles Bonnet ha sido descrito en adultos, afecta a más del 15% de los pacientes con baja visión, pero su presencia en la edad pediátrica es escasamente reflejada en la literatura, y se desconocen sus características y su prevalencia.
Description
Received 14 September 2016, Accepted 9 November 2016, Available online 31 May 2017
Collections