Publication:
Estudio anatómico y estadístico de la variabilidad de las poleas del canal de los flexores en los dedos trifalángicos humanos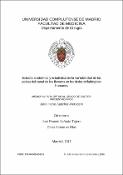 Files
Authors
Advisors (or tutors)
Editors
Publisher
Universidad Complutense de Madrid
Abstract
Las poleas de los dedos forman un sistema biomecánico único y complejo que permite la flexión completa del dedo sin limitar la extensión, manteniendo a los tendones flexores próximos al eje articular y evitando el efecto cuerda de arco. El sistema de poleas está formado por una serie de condensaciones de tejido fibroso con configuración anular y cruciforme variables, interpuestas a lo largo de la superficie de la vaina sinovial de manera segmentaria, en localizaciones estratégicas. La nomenclatura actual está basada en las descripciones hechas por Doyle y Blythe en 1975, que de forma arbitraria denominaron A, las bandas anulares, y C, las bandas cruciformes. Identificaron 4 poleas anulares y 3 cruciformes y las numeraron de proximal a distal: desde la A1 hasta la A4 a las anulares y desde la C1 hasta la C3 a las cruciformes. Posteriormente Hunter et al en 1980 describió la quinta polea anular (A5). La polea A1 se inicia proximal a la línea articular metacarpofalángica, toma su origen de la placa volar subyacente y se inserta en la base de la primera falange. Su configuración más usual es de un solo anillo pero puede estar representada por dos o tres bandas anulares. El espacio entre las poleas A1 y A2 es variable. La polea A2 es constante en forma con un origen semilunar característico en la base de la primera falange que se continúa por fibras anulares terminando en un borde grueso y prominente. Al final de la polea A2, un arco de fibras oblicuas se interdigita con fibras del lado opuesto y forman la primera polea cruciforme (C1). Se trata de una polea delgada con configuración variable, siendo la forma cruciforme la más frecuente...
The finger pulleys form a unique and complex biomechanical system that enables the full flexion of the fingers without limiting the extension, keeping the flexor tendons close to the joint axis and preventing a bowstring effect. The pulley system is formed by a series of fibrous tissue condensations, with varying annular and cruciform configuration, spread over the surface of the synovial sheath in a segmental fashion, in strategic locations. The current nomenclature is based on the descriptions made by Doyle and Blythe in 1975, which arbitrarily call the annular bands "A" and the cruciform bands "C". The authors identified 4 annular and 3 cruciform pulleys and numbered them from proximal to distal: from A1 to A4 for the annular bands and from C1 to C3 for the cruciform bands. In 1980, Hunter et al. described the fifth annular pulley (A5). Pulley A1 starts proximal to the metacarpophalangeal joint line, originates in the underlying volar plate and enters the base of the first phalanx. Its most common configuration is a single ring, but it can be represented by 2 or 3 annular bands. The space between the A1 and A2 pulleys varies. The A2 pulley has a consistent shape, with a characteristic semilunar origin on the base of the first phalanx, which continues with annular fibers that end at a thick and prominent edge. At the end of the A2 pulley, an arc of oblique fibers interdigitates with fibers on the other side and forms the first cruciform pulley (C1). This is a thin pulley with varying configuration, with cruciform the most common configuration. The A3 pulley is located at the proximal interphalangealjoint originating from its volar plate...
Description
Tesis de la Universidad Complutense de Madrid, Facultad de Medicina, Departamento de Cirugía, leída el 21-01-2016
Collections