Publication:
La evaluación de la prematuridad como elemento de prevención en trastornos del neurodesarrollo y aprendizaje en atención temprana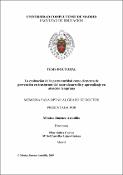 Files
Authors
Advisors (or tutors)
Editors
Publisher
Universidad Complutense de Madrid
Abstract
La presente investigación tiene el objetivo principal de evaluar las áreas del desarrollo cognitivo, comunicativo y motor, en niños que, por su condición de bajo peso al nacimiento y corta edad gestacional, forman parte del grupo de alto riesgo biológico.Una muestra de 50 niños prematuros y 100 nacidos a término fueron seguidos, a los 2 años y a los 3 años y medio (teniendo en cuenta las edades corregidas en prematuros), una vez iniciada la escolaridad en el segundo ciclo de Educación Infantil. El grupo experimental, fue seleccionado siguiendo los criterios de peso inferior a 1500 gramos y edad gestacional inferior a 32 semanas. El grupo control, se seleccionó entre niños sin discapacidades físicas, sensoriales o motoras en los primeros años de vida...
The current research has the main objective to evaluate the cognitive, communicative and motor development areas, in children who, due to their condition of low birth weight and short gestational age, are part of the group of high biological risk.A sample of 50 preterm infants and 100 full-term infants was followed at the age of 2 years and 3 years and a half (taking into account corrected ages in preterm infants), once schooling began in the second cycle of Pre-school Education. The experimental group, was selected following the criteria of weight below 1500 grams and gestational age less than 32 weeks. The control group was selected taking into account a sample of children without physical, sensorial or motor disabilities in their early life...
Description
Tesis inédita de la Universidad Complutense de Madrid, Facultad de Educación, Departamento de Estudios Educativos, leída el 21-11-2019
Collections