Publication:
El símbolo religioso en el Derecho. Concepto y clases.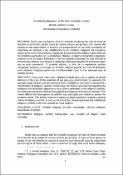 Authors
Advisors (or tutors)
Editors
Abstract
Desde hace ya algunos años los símbolos religiosos han sido un tema de atención en el Derecho de los países de nuestro entorno geo-jurídico. Con ocasión del estudio de esta especialidad, la doctrina y la jurisprudencia se han visto necesitadas de determinar un concepto y una clasificación de los símbolos religiosos. Al concebirse ambas tareas como instrumentales respecto de la aproximación analítica y descriptiva de los problemas generados por la simbología religiosa, se observa disparidad y dispersión respecto de los conceptos formulados y las conclusiones alcanzadas, lo cual dificulta la formulación uniforme de principios y criterios jurídicos para abordar los problemas reales que se están planteando. El presente artículo, a partir de la experiencia jurídica comparada, propone un concepto de símbolo religioso general, así como la distinción entre símbolos religiosos personales e institucionales como la más adecuada para el análisis jurídico.
From some years now, religious symbols have been a subject of special attention in the Law of the countries of our geo-legal environment. In assessing this specialty, legal scholars and case law have been compelled to determine a concept and a classification of religious symbols. Conceiving both tasks as instrumental regarding the analytical and descriptive approach to the problems generated by the religious symbols, it is observed a disparity and dispersion regarding concepts and conclusions reached. This makes difficult the development of uniform legal principles and criteria to address the problems raised. This article, based on comparative legal experience, suggests a general notion of religious symbol, as well as the distinction between personal and institutional religious symbols as the most suitable for legal analysis.
Description
Es parte de las investigaciones conducentes a la publicación de la monografía Palomino Lozano, R., La religión en el espacio público. Los símbolos religiosos ante el derecho, Digital Reasons, Madrid, 2016.
Collections