Publication:
Red social con aplicación móvil inteligente para la integración de colectivos vulnerables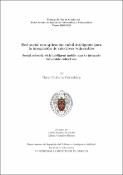 Authors
Advisors (or tutors)
Editors
Abstract
La difusión de información a colectivos vulnerables, en particular los refugiados, permanece un reto abierto. Hay muchas fuentes de información, instituciones e iniciativas de apoyo o personas con las que crear comunidad, pero es difícil encontrar las respuestas adecuadas en la maraña de información disponible. Las distintas ONG, en sus webs y aplicaciones móviles, tienden a limitarse a mostrar infografías sobre los procedimientos y remitir a los solicitantes a sus sedes presenciales más cercanas. Además, existen aspecto de confianza que, siendo muy importantes en estas situaciones, no están abordados de una manera completa y efectiva desde el punto de vista de los usuarios. Por este motivo, tienden a acudir solamente a aquellas ONG que ya conocían en su lugar de origen.En este proyecto planteamos crear una red social para abordar esta situación. Para ello, se creará una aplicación Android completa que nos permita registrarnos de forma segura, acceder a información y explicaciones detalladas paso a paso publicadas a través de la aplicación por instituciones verificadas, incluyendo funcionalidades de búsqueda de información. Se plantea como un lugar virtual al que acudir a buscar información, que sea confiable y que reúna procedimientos de distintas ONG, para ser útil y actuar como elemento de unión. A fin de facilitar el uso de esta información, se adopta una representación de los procesos basada en grafos donde los nodos representan pasos y decisiones, pudiendo contener también información multimedia. Cuando un usuario estea realizando un procedimiento, la aplicación guardará la información de su estado y le permitirá continuar en la próxima sesión desde el punto en el que lo dejó. Además, las instituciones verificadas podrán crear nuevas versiones de sus procedimientos ya publicados, para editar o ampliar su contenido, así como dar de baja procedimientos o tener borradores sin publicar. Este proyecto contará con la colaboración de miembros de los grupos vulnerables y expertos del campo de las Ciencias Sociales como asesores en el desarrollo, obteniendo una experiencia realista de trabajo en grupos multidisciplinares. Estos grupos actuarán como responsables y usuarios del producto, ayudando a definir sus requisitos y validando la aplicación resultante mediante una evaluación final. Se pueden encontrar todos los recursos del proyecto en Github.
Dissemination of information to vulnerable groups, particularly refugees, remains an open challenge. There are many sources of information, institutions and support initiatives, or people with whom to build community, but it is difficult to find the right answers in the tangle of information available. NGOs, on their websites and mobile apps, tend to merely show infographics about procedures and referring applicants to their nearest face-to-face headquarter. In addition, there are aspects of trust that, despite being very important in these situations, are not addressed in a complete and effective way from the users' point of view. For this reason, people from vulnerable groups, and specially refugees, tend to go only to those NGOs that they already knew where they used to live. In this project we propose to create a social network to address this situation. To do this, we will create a complete Android application that will allow us to register securely, access information and detailed step-by-step explanations published through the application by verified institutions, including information search functionalities. It is intended to be a virtual place to go looking for information that is reliable and that brings together procedures from different NGOs, to be useful and act as an unifying element. In order to facilitate the use of this information, a graph-based representation of the processes is adopted, where nodes represent steps and decisions and may also contain multimedia information. When a user is performing a procedure, the application will save his status information and allow him to continue in the next session from the point where he left off. In addition, the verified institutions will be able to create new versions of their already published procedures, to edit or to expand their content, as well as to delete procedures or have unpublished drafts. This project will have the collaboration of members of vulnerable groups and experts in the field of Social Sciences as advisors in the development, obtaining a realistic experience of working in multidisciplinary groups. These groups will act as owners and users of the product, helping to define its requirements and validating the resulting application through a final evaluation. Full project resources can be found at Github.
Description
Trabajo de Fin de Doble Grado en Ingeniería Informática y Matemáticas, Facultad de Informática UCM, Departamento de Ingeniería del Software e Inteligencia Artificial, Curso 2020/2021.