Publication:
Comparative Ecology of Hyalomma lusitanicum and Hyalomma marginatum Koch, 1844 (Acarina: Ixodidae)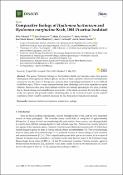 Authors
Carbonell Bonelo, Juan David
Advisors (or tutors)
Editors
Abstract
The genus Hyalomma belongs to the Ixodidae family and includes many tick species. Most species in this genus are African species, but two of them, Hyalomma lusitanicum and Hyalomma marginatum, are also found in Europe and, owing to their morphological similarity, it is very difficult to tell them apart. This is a major concern because their phenology and vector capacities are quite different. Moreover, they share many habitats and both are currently spreading to new areas, probably due to climate change and animal/human movements. In this study, we review the described ecology of the two species and provide further interesting data on H. lusitanicum based on the authors' experience, which could be useful in assessing the risk they pose to humans and animals.
Collections