Publication:
El legado histórico franquista y el mercado de trabajo en España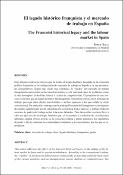 Authors
Advisors (or tutors)
Editors
Publisher
Federacion Española de Sociologia
Abstract
Este artículo explora los efectos que ha tenido el legado histórico heredado de la economía política franquista en la configuración del mercado de trabajo en España y en sus persistentes desequilibrios. Según una visión muy extendida, la "rigidez" del mercado de trabajo franquista ha sobrevivido en la etapa democrática y es la principal causa de problemas como el alto desempleo, la dualidad laboral o la falta de competitividad. El propósito de este artículo es mostrar que el legado histórico del franquismo sí ha tenido efectos en el mercado de trabajo, pero que estos efectos son distintos, e incluso opuestos, a los que señala la visión convencional. En particular, sostengo que la principal herencia del franquismo es un régimen de empleo caracterizado por la subordinación económica (bajos salarios) y política (falta de recursos de poder) del trabajo en las relaciones laborales. Para desarrollar esta tesis llevo a cabo un ejercicio de sociología histórica que, al reconstruir la evolución de las relaciones laborales, amplía el foco al resto de la economía política y presta atención a los equilibrios de poder a fin de examinar las continuidades históricas y los mecanismos por los que se reproducen.
This article addresses the effects of the francoist historical legacy on the making of the labour market in Spain and its persistent imbalances. According to the conventional wisdom, the "rigidity" of the francoist labour market outlasted the dictatorship and is the main cause of the current problems such as unemployment, labour dualism or competitiveness. The article aims to show that whereas such legacy effects exist, they are quite different and even contrary to those pointed out by the conventional wisdom. In particular, I hold that the main continuity from the dictatorship has been an employment regime characterized by the subordination of Labour, both in economic (low wages) and political (weak power resources) terms. To defend this thesis, I reassess the recent evolution of the industrial relations in Spain, broadening the focus to the rest of the political economy and paying special attention to the power balances, in order to examine the path-dependent continuities and the mechanisms underlying them.
Collections