Publication:
De Tahrir a Wall Street por la Puerta del Sol: la difusión transnacional de los movimientos sociales en perspectiva comparada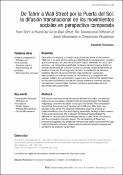 Authors
Advisors (or tutors)
Editors
Publisher
Centro de Investigaciones Sociológicas
Abstract
Este artículo compara la difusión de la primavera árabe al movimiento 15M con la de este último a Occupy Wall Street. La comparación muestra que el contenido y el canal de la difusión fueron diferentes en uno y otro proceso. Los indignados españoles recibieron de la primavera árabe un sentido de eficacia de la acción colectiva a través fundamentalmente de medios indirectos. En el segundo proceso, la mediación de terceros facilitó la difusión de conocimientos más prácticos y complejos relacionados con nuevas formas de inclusividad y la ocupación del espacio público. La comparación sugiere que los elementos ideacionales se difunden fácilmente a través de canales indirectos mientras que las innovaciones conductuales precisan contactos personales para ser difundidas adecuadamente.
This article examines social movement diffusion through a comparison between two processes: diffusion from the Arab Spring to the Spanish indignados, and from the latter to Occupy Wall Street. The comparison shows that the content and the channel of diffusion differ from one process to the other. The Spanish indignados received a sense of collective effi cacy from the Arab Spring essentially through indirect means. In the second process, the mediation of third parties facilitated the diffusion of more practical knowledge related to new forms of inclusivity and the occupation of public space. The comparison of these two processes suggests that ideational elements are easily transmitted through indirect channels, whereas behavioural innovations require interpersonal contact to be properly transmitted.
Collections