Publication:
La postsecularización. Un nuevo paradigma en sociología de la religión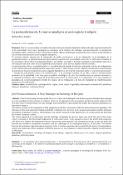 Authors
Advisors (or tutors)
Editors
Publisher
Universidad Complutense de Madrid
Abstract
Tras la creciente crítica efectuada a la teoría de la secularización durante las últimas décadas, la postsecularización se ha consolidado como nuevo paradigma en sociología de la religión. Sin embargo, una aproximación a la producción sociológica sobre el tema revela dos líneas interpretativas básicas, aquella que emerge de la teoría social y la que efectúa un uso de la postsecularización como categoría descriptiva. El presente artículo apuesta por la integración de ambas perspectivas y de su interacción en el paradigma de la postsecularización. La pertinencia de esta aproximación conjunta será desarrollada a partir de las reflexiones extraídas de las principales obras sobre la postsecularización y del análisis descriptivo de datos cuantitativos procedentes tanto de la investigación del autor sobre el caso español de secularización como del más amplio contexto europeo. La aproximación crítica a la secularización y el reto de la pluralidad serán los dos ejes principales con los que indagaremos en la vertiente teórica del paradigma de la postsecularización. A partir de esta primera reflexión, abordaremos posteriormente el potencial de la postsecularización como categoría descriptiva a través de la interacción entre la "conciencia postsecular" —surgida del acercamiento crítico a la secularización— y la sociología histórica, de un lado, y entre el reconocimiento normativo de la pluralidad y los retos para su análisis sociológico, de otro. Esta tensión entre la vertiente normativa y la realidad sociológica, que la teoría de la secularización obvió en cierto punto de su desarrollo, es la que posibilita al paradigma de la postsecularización limitar los excesos de su predecesora a la hora de interpretar las transformaciones religiosas en la modernidad.
After the increasing criticism on the theory of secularisation during the last decades, postsecularisation has emerged as a new paradigm in the sociology of religion. However, an approach to the sociological production on the subject reveals two basic lines of interpretation, one that emerges from social theory and another that makes use of postsecularisation as a descriptive category. This article focuses on the integration of both perspectives and their interaction within the postsecularisation paradigm. The relevance of this joint approach is based on both the reflections from the main works on postsecularisation and the analytical description of quantative sources, which includes the author's research on the Spanish case of secularisation and data from the broader European context. The critical approach to secularisation and the challenge of plurality are the two main axes of the first part of this study, which is focused on the theoretical background of postsecularisation. In the second section of the article, both categories will allow us to explore the interaction between "postsecular consciousness" and historical sociology, on the one hand, and between the normative recognition of plurality and the challenges of its sociological analysis, on the other. This tension between the normative approach and sociological reality, which has sometimes been omitted by the theory of secularisation, enables the postsecularisation paradigm to limit the excesses of its predecessor in interpreting the religious transformations of Modernity.
Collections