Publication:
Cambios en el discurso visual de la prensa escrita en el contexto de la convergencia mediática y la crisis de la empresa informativa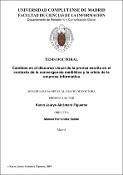 Authors
Advisors (or tutors)
Editors
Publisher
Universidad Complutense de Madrid
Abstract
La mayoría de investigaciones que abordan el impacto de las nuevas tecnologías en la prensa escrita, se centran solo en el hecho de que los periódicos impresos podrían desaparecer a raíz del papel protagónico que juega el internet en la distribución de la información y de la gama de recursos que le son inherentes, los cuales ponen en franca desventaja al periódico impreso frente al digital. Sin embargo, la convergencia mediática ha propiciado que los diarios impresos utilicen los recursos propios del diseño digital en sus publicaciones, afectando de algún modo sus contenidos. De igual forma, los periódicos han fusionado sus redacciones, y el trabajo de los periodistas también ha sido afectado como parte de los profundos cambios en el modelo de negocio de la empresa informativa. El propósito de esta investigación titulada Cambios en el discurso visual de la prensa escrita en el contexto de la convergencia mediática y la crisis de la empresa informativa, que se corresponde con el área de "Periodismo especializado, tecnologías, aspectos empresariales y de gestión documental de la información", integrada en el Programa de Doctorado en Periodismo, es indagar sobre las implicaciones que tiene un cambio en el discurso visual en: la acogida de los lectores, el incremento de la publicidad, la imagen corporativa y la reputación de las empresas informativas. Y en vista de que las nuevas tecnologías de la información han propiciado la convergencia mediática, me he propuesto identificar qué recursos propios de los diarios digitales están siendo empleados en el diseño de la prensa escrita como estrategia visual para captar la atención del público...
The majority of research that deals with the impact of new technologies in the written press, focuses only on the fact that printed newspapers could disappear as a result of the leading role played by the internet in the distribution of information and the range of resources that are inherent to it, which put the printed newspaper against the digital one at a clear disadvantage. However, the media convergence has led print newspapers to use the resources of digital design in their publications, affecting in some way their contents. Similarly, newspapers have merged their newsrooms, and the work of journalists has also been affected as part of the profound changes in the business model of the information company. The purpose of this research entitled: Changes in the visual discourse of the written press in the context of media convergence and the crisis of the information company, which corresponds to the area of "Specialized Journalism, Technologies, Business Aspects and Documentary Information Management", integrated in the Doctoral Program in Journalism, is to investigate the implications that it has a change in visual discourse in: the reception of readers, the increase in advertising, the corporate image and the reputation of information companies. And in view of the fact that the new information technologies have led to media convergence, I have set out to identify what resources of digital newspapers are being used in the design of the written press as a visual strategy to capture the attention of the public...
Description
Tesis inédita de la Universidad Complutense de Madrid, Facultad de Ciencias de la Información, Departamento de Periodismo y Comunicación Global, leída el 24/10/2019
Collections