Publication:
El espejo y el martillo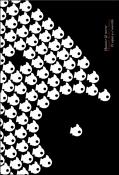 Authors
Advisors (or tutors)
Editors
Abstract
Curiosa afirmación, que señala al arte como herramienta, aunque, si se le quita su rotundidad, no resulta tan reveladora, porque todos sabemos que desde siempre se han realizado obras interesadas y que los artistas han servido a distintas causas y el arte ha portado –antes y ahora- muy diversas funcionalidades, desde las exclusivamente descriptivas o narrativas hasta las religiosas y políticas. Esa labor instrumental, por otro lado, la tienen en cuenta muchísimos artistas que tienen como prioridad la comunicación de una determinada idea, dedicando su talento creador a lanzar un mensaje que considera importante.
A strange assertion, referring to art as a tool or instrument., although if you ignore the finallity of the statement it is not quite so insightful, because we all know that interesting works have always been produced and that artists have served various causes. Art has had -both before and now- veri different functions that have ranged from the solely descriptive or narrative to the religous and plotical. That instrumental aspect, on the other hand, is taken into account by a great many artists whose priority is to communicate a particular idea, devoting their creative talent to sending a message they regard as important.
Collections