Publication:
Cese paradójico de un caso de síndrome de Charles Bonnet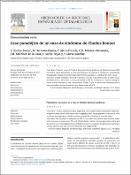 Authors
Martínez de la Casa, Jose Maria
Advisors (or tutors)
Editors
Abstract
Caso clínico: paciente varón de 78 años diagnosticado de síndrome de Charles Bonnet (SCB) por déficit visual secundario a glaucoma terminal. Evolucionó a amaurosis, presentando desaparición brusca de las alucinaciones de forma paralela a la pérdida del resto visual. Discusión: el cese paradójico del SCB se produce cuando el paciente pierde el resto visual, evolucionando a amaurosis. La falta de estimulación en la retina y el córtex correspondiente hacen desaparecer las alucinaciones debido a que las neuronas desaferentadas e hiperexcitadas pierden el estímulo que desencadena el SCB.
Case report: 78-year-old male patient diagnosed with Charles Bonnet syndrome (CBS) showing secondary visual deficit toward end-stage glaucoma. He progressed to amaurosis, with an abrupt disappearance of hallucinations in parallel to the loss of residual vision. Discussion: The paradoxical cessation of CBS occurs when the patient loses residual vision and progresses to amaurosis. The lack of stimulation, both in the corresponding retina and the cortex, lead to the disappearance of hallucinations because the desafferented and hyper-excited neurons lose the necessary stimulus that triggers CBS.
Description
Received 29 November 2012, Accepted 25 January 2013
Collections