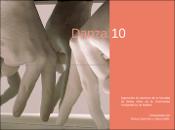 Authors
Advisors (or tutors)
Editors
Publisher
Ayuntamiento de Torrelodones
Abstract
Catálogo editado con motivo de la exposición titulada "Danza 10", celebrada del 18 al 30 de junio de 2010, en la Sala Villaseñor de la Casa de Cultura de Torrelodones, Madrid. El catálogo recoge las 10 esculturas que pudieron verse en la exposición, todas de estudiantes de asignaturas de escultura, de la Facultad de Bellas Artes de la Universidad Complutense de Madrid. Entre los materiales empleados para las esculturas había desde los más nobles como bronce a otros más modestos pero tan expresivos como la escayola directa. La temática en todas las esculturas era el mundo de la danza.
This catalogue was published due to the exhibition entitled "Danza 10", which took place on the 18th to the 30th of June 2010, at Sala Villaseñor in the city council of Torrelodones, Madrid. The catalogue included 10 sculptures shown on the exhibition, all of them from students of the subject sculpture of the Faculty of Arts at the "Complutense" University of Madrid. Among the used materials for the sculptures were such as the most noble bronze as well as more modest, but very expressive, materials as there is direct plaster. The subject of all the sculptures represented the world of dance.
Description
Participantes: Mariana Blanco Parte, José Vicente Cosmen Vega, Marta Domínguez Pérez, Veronique García, Carmen Moral Ruiz, Julia Moreno Fernández, Blanca Osset Osset, Manuel Óvilo Leyva, Ángela Ruiz Cupeiro, Rebeca Sánchez Sánchez.
Collections