Publication:
A Reliable and Standardizable Differential PCR and qPCR Methodology Assesses HER2 Gene Amplification in Gastric Cancer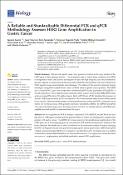 Advisors (or tutors)
Editors
Abstract
We have applied two PCR techniques, differential PCR (diffPCR) and qPCR for the identification of HER2 gene amplifications in genomic DNA of tumor and distal gastric samples from patients with gastric cancer. The diffPCR technique consists of the simultaneous amplification of the HER2 gene and a housekeeping gene by conventional PCR and the densitometric analysis of the bands obtained. We established a cut-off point based on the mean and standard deviation analyzing the DNA of 30 gastric tissues from patients undergoing non-cancer gastrectomy. diffPCR and qPCR yielded consistent results. HER2-overexpression was detected in 25% of patients and was further confirmed by immunohistochemistry and immunofluorescence. The approaches herein described may serve as complementary and reliable methods to assess HER2 amplification.
Collections