Publication:
Flipped Learning: Proyecto de Innovación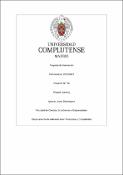 Advisors (or tutors)
Editors
Abstract
El objetivo de este proyecto es mejorar de la calidad docente, vinculada a procesos de innovación, pero basándonos en datos científicos que avalen la aplicación de una metodología útil y motivadora en nuestro contexto universitario. En estas propuestas de mejora, pretendemos que participen de forma activa ambos agentes educativos: profesorado y alumnado.
Citation
Alamri, M. M. (2019). Students' academic achievement performance and satisfaction in a flipped classroom in Saudi Arabia. International Journal of Technology Enhanced Learning, 11(1), 103-119. Chen, K. S., Monrouxe, L., Lu, Y. H., Jenq, C. C., Chang, Y. J., Chang, Y. C., & Chai, P.Y. C. (2018). Academic outcomes of flipped classroom learning: a meta-analysis. Medical education, 52(9), 910-924. Every day. Washington, DC: ISTE; and Alexandria, VA: ASCD. Caligaris, M., Rodríguez, G., & Laugero, L. (2016). A first experience of flipped classroom in numerical analysis. Procedia-Social and Behavioral Sciences, 217, 838-845. Nwosisi, C., Ferreira, A., Rosenberg, W., & Walsh, K. (2016). A study of the flipped classroom and its effectiveness in flipping thirty percent of the course content. International Journal of Information and Education Technology, 6(5), 348. Santiago, R. y Bergmann, J. (2018): Aprender al revés. Barcelona: Paidós. Szoka, J (2013). Measured Results Demonstrate Enhanced Learning Outcomes in the Flipped Classroom. Tourón, J. y Santiago, R. (2015). Flipped learning model and the development of talent at school. Revista de Educación, 368, 33-65.