Publication:
Calidad de vida en el climaterio: acercamiento al estudio de la salud integral y la conformidad con normas de género femeninas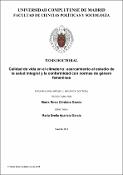 Authors
Advisors (or tutors)
Editors
Publisher
Universidad Complutense de Madrid
Abstract
El climaterio en la mujer es un periodo de duración variable en el que se producen una serie de cambios físicos, psíquicos y sociales. Muchas investigaciones han tratado el tema climatérico, pero pocas de ellas lo realizan con perspectiva de género, donde la mujer es el centro de estudio y los datos que esta mujer aporta son evaluados de modo crítico de acuerdo con la teoría feminista. La Calidad de vida siempre ha preocupado a las personas y máxime cuando se considera que ésta se puede perder. Dicha pérdida, en el caso de la mujer climatérica, parece estar asociada a factores de diferente índole, entre los que se puede destacar el propio envejecimiento, y no sólo a los cambios hormonales. Gozar de salud es un objetivo que está en mente de la inmensa mayoría de personas, pero lo que unas entienden por salud no tiene por qué coincidir de modo colectivo. Apostar por alcanzar la salud global o integrada es una de las premisas de los Servicios sanitarios en la actualidad. Las féminas tradicionalmente han arrastrado el imperativo cultural que las obliga a adaptarse a las normas sociales femeninas que el grupo marca para ellas. Así, la mujer debe ser sumisa, agradable, cuidadora del hogar y los hijos y/o mantenerse esbelta, entre otros mandatos. No existen reglas legales que administren penas a las mujeres que no lleven a cabo estas normas, pero el precio por salirse de la norma puede ser la pérdida de la propia salud en el ámbito físico, psíquico o social, de modo que no cumplir con lo que se espera de una mujer siempre conlleva un precio...
The menopause in women is a variable period in which a series of physical, psychological and social changes occur. Many investigations have tried the climacteric theme, but few of them do it with gender mainstreaming, where the woman is the center of the study and the data provided by this woman are evaluated critically according to feminist theory. The quality of life has always bothered people and especially when you consider that this can be lost. This loss, in the case of climacteric women, seems to be associated to different factors, among which it can be highlighted own aging, and not only to the hormonal changes. Health is a goal that is in the minds of the vast majority of people, but what one understand as health does not have to coincide collectively. Opting to reach global or integrated health is one of the premises of health care services nowadays. Females have traditionally drawn the cultural imperative that requires them to adapt to female social norms the Group gets for them. So women should be submissive, friendly, caretaker of the household and children or staying slender, among other mandates. There are no legal rules administering punishment to women who do not carry out these rules, but the price out of the norm can be the loss of one's health in the physical, psychological or social sphere, so that failure to comply with what is expected of a woman always carries a price...
Description
Tesis de la Universidad Complutense de Madrid, Facultad de Ciencias Políticas y Sociología, leída el 25/09/2018
Collections