Publication:
Virulencia de aislados de Leishmania infantum procedentes del brote de leishmaniosis humana en la Comunidad de Madrid: caracterización y evaluación en células de reservorios mamíferos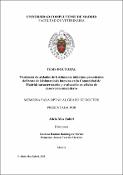 Authors
Advisors (or tutors)
Editors
Publisher
Universidad Complutense de Madrid
Abstract
La leishmaniosis visceral zoonótica (ZVL) producida por L. infantum, es una enfermedad parasitaria que constituye un gran reto para la salud pública al afectar tanto a seres humanos como a perros, siendo estos últimos el principal reservorio. Su transmisión, fundamentalmente vectorial, se lleva a cabo mediante insectos denominados flebotomos pertenecientes al género Lutzomyia en América Central y del Sur y Phlebotomus en la Cuenca Mediterránea, Oriente Medio y Asia. Se trata de una enfermedad que cursa con cuadros clínicos de gravedad variable en los hospedadores, con manifestaciones tanto cutáneas como viscerales, que pueden incluso llegar a producir la muerte de los pacientes si no se recibe el tratamiento adecuado...
Zoonotic visceral leishmaniasis (ZVL) caused by L. infantum is a parasitic disease that constitutes a major public health challenge as it affects both humans and dogs, the main reservoir. The transmission is carried by insects called phlebotomine sandflies belonging to the genus Lutzomyia in Central and South America and Phlebotomus in the Mediterranean Basin, the Middle East and Asia. It is a disease that causes a wide spectrum of clinical presentations, with both cutaneous and visceral manifestations, which can even lead to death if not adequately treated...
Description
Tesis inédita de la Universidad Complutense de Madrid, Facultad de Veterinaria, Departamento de Sanidad Animal, leída el 05-07-2021
Collections