Publication:
The Role of Tumor Microenvironment in Multiple Myeloma Development and Progression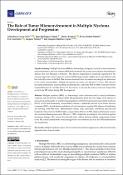 Advisors (or tutors)
Editors
Abstract
Multiple myeloma (MM) is a hematologic cancer characterized by clonal proliferation of plasma cells in the bone marrow (BM). The progression, from the early stages of the disease as monoclonal gammopathy of undetermined significance (MGUS) and smoldering multiple myeloma (SMM) to MM and occasionally extramedullary disease, is drastically affected by the tumor microenvironment (TME). Soluble factors and direct cell–cell interactions regulate MM plasma cell trafficking and homing to the BM niche. Mesenchymal stromal cells, osteoclasts, osteoblasts, myeloid and lymphoid cells present in the BM create a unique milieu that favors MM plasma cell immune evasion and promotes disease progression. Moreover, TME is implicated in malignant cell protection against anti-tumor therapy. This review describes the main cellular and non-cellular components located in the BM, which condition the immunosuppressive environment and lead the MM establishment and progression.
Collections