Publication:
Mecanismos moleculares asociados al envejecimiento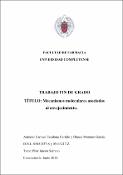 Advisors (or tutors)
Editors
Abstract
El envejecimiento es una situación que preocupa a la gran mayoría de la población y cuya etiología es bastante compleja. Hemos realizado una revisión bibliográfica de artículos que estudian los principales mecanismos moleculares implicados en este proceso con independencia de que los resultados fueran aplicables a animales o humanos. Los principales marcadores asociados al envejecimiento identificados hasta el momento son: inestabilidad genómica, desgaste telomérico, pérdida de proteostasis, desregulación de los sistemas de detección de nutrientes, alteraciones epigenéticas, disfunción mitocondrial, senescencia celular, agotamiento de células madre y alteración de la comunicación celular.
Aging is a fact that worries most of the population and which etiology is really complex. We have done a literature review of some articles that study the main molecular mechanisms involved in this process not taking into consideration whether the results refer to animals or human being. The main hallmarks of aging nowadays are: genomic instability, telomere attrition, loss of proteostasis, deregulated nutrient sensing, epigenetic alterations, mitochondrial dysfunction, cellular senescence, stem cell exhaustion, and altered intercellular communication.