Publication:
Crystallography and art. (Spanish: Cristalografía y arte)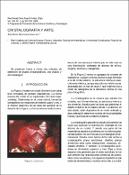 Advisors (or tutors)
Editors
Publisher
Real Academia de Ciencias Exactas, Físicas y Naturales
Abstract
La cristalografía es una disciplina de la geología que estudia los cristales: sus formas externas e internas; las posibilidades de estas formas, etc. Los aspectos matemáticos de la teoría son de extraordinario interés para los matemáticos porque admiten generalizaciones en varias direcciones. En primer lugar, pueden estudiarse los grupos cristalográficos n dimensionales para todo n>0. Algunos grupos de dimensiones altas (5 ó más) han aclarado la estructura de algunos cuasicristales. Pero la generalización más interesante consiste en el estudio de los grupos cristalográficos en espacios no euclidianos. El estudio de ellos, en el plano hiperbólico, por ejemplo, tiene relaciones muy importantes (que se remontan a Gauss) con la teoría de números. El caso tridimensional está relacionado con la teoría de nudos, etc. En esta conferencia introduciré estas ideas empleando útiles topológicos e ilustrándolos mediante fotografías de flores, insectos y obras de arte.
Description
Forma parte de la "Décima edición del Programa de Promoción de la Cultura Científica y Tecnológica, organizado por la Real Academia de Ciencias Exactas, Físicas y Naturales"
Citation
Bonahon, F. y Siebenmann, L. C., Seifert 3-orbifolds and their role as natural crystalline parts of arbitrary compact irreducible 3-orbifolds, Notas multicopiadas, 1983, Université de Paris-Sud, 91405 Orsay. Buerger, M. J. Elementary Crystallography, Wiley, New York, 1956 Burckhardt, J. J. Die Bewegungsgruppen der Kristallographie, 2nd ed. Birkhauser, Basel 1966 Montesinos Amilibia, J. M. La Cristalografía Geométrica. En Horizontes Culturales, las fronteras de la Ciencia. Espasa 1999. pp. 97-112 Thurston, W. P. The geometry and Topology of 3-manifolds, Lecture Notes, Princeton University (1976-79).
Collections