Publication:
Cruz y Raya: un proyecto para la renovación del catolicismo español nacido en el Madrid de la Segunda República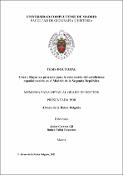 Files
Authors
Advisors (or tutors)
Editors
Publisher
Universidad Complutense de Madrid
Abstract
El catolicismo español contemporáneo ha sido dibujado habitualmente como un movimiento cultural y político netamente reaccionario, contrario a toda forma de secularización y, por extensión, enemigo declarado de la modernidad en todos sus elementos fundamentales. La consecución de la Dictadura de Franco, por ende, sería la colmatación de décadas de lucha política, social y cultural. Esta tesis doctoral trata de colorear este ambiente, este relato, con matices, proponiendo otras vías posibles, si bien fracasadas, para aquel catolicismo. Es decir, hubo también lugares y grupos católicos que abogaron por una aproximación diferente, por una relación más dialogante con los cambios y los nuevos tiempos. Un ejemplo paradigmático fue Cruz y Raya, viva entre los años 1933 y 1936, en plena Segunda República...
The modern Spanish catholicism has been usually depicted as a clearly reactionary cultural and political movement, contrary to every form of secularization and, in extent, declared enemy of modernity in all its main elements. The creation of Franco's dictatorship, therefore, would be the consecution of decades of a political, social and cultural struggle. This doctoral thesis aims to colour this atmosphere, this narrative, with nuances, rescuing other possible alternatives for that catholicism, although they ended up failing. In other words, there were also places and catholic groups who defended a different approach, a more tolerant relationship with changes and new times. A singular example was Cruz y Raya, whose life took from 1933 to 1936, during the course of the Second Republic...
Description
Tesis inédita de la Universidad Complutense de Madrid, Facultad de Geografía e Historia, Departamento de Historia Moderna y Contemporánea, leída el 17-06-2021
Collections