Publication:
Adaptive task-migration policies for thermal optimization in MPSoCs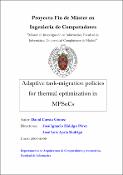 Authors
Advisors (or tutors)
Editors
Abstract
En los circuitos tecnológicos diseñados con tecnologías de fabricación por debajo de la micra, las altas temperaturas provocan fallos críticos en la fiabilidad, el temporizado, los costes de refrigeración y la potencia de pérdidas. Hasta el momento se han propuesto varias técnicas de migración de tareas para manejar eficientemente la distribución térmica en los sistemas multiprocesador, pero con un alto coste en cuanto a la eficiencia del sistema. Aunque las técnicas tradicionales se han centrado en reducir la temperatura media del chip, no han considerado los efectos que los gradientes térmicos tienen en la fiabilidad del sistema. En este trabajo, se exploran los beneficios de las técnicas de migración de tareas basadas en la temperatura en sistemas empotrados multiprocesador. En particular se proponen algunas políticas que son capaces de reducir la temperatura media del chip y los gradientes térmicos con un impacto en el rendimiento prácticamente despreciable. Con nuestras técnicas, la aparición de puntos calientes (hot spots) y variaciones térmicas se ven drásticamente reducidos con respecto a otras propuestas, con lo que la fiabilidad del sistema se mejora significativamente cuando la comparamos con las técnicas de migración de tareas tradicionales [ABSTRACT] In deep submicron circuits, high temperatures have created critical issues in reliability, timing, performance, cooling costs and leakage power. Task migration techniques have been proposed to manage efficiently the thermal distribution in multi-processor systems but at the cost of important performance penalties. While traditional techniques have focused on reducing the average temperature of the chip, they have not considered the effect that temperature gradients have in system reliability. In this work, we explore the benefits of thermal-aware task migration techniques for embedded multi-processor systems. We propose several policies that are able to reduce the average temperature of the chip and the thermal gradients with a negligible performance overhead. With our techniques, hot spots and temperature variations are decreased, and the reliability of the system is significantly improved when compared to traditional task migration techniques.
Description
Máster en Investigación en Informática, Facultad de Informática, Departamento de Arquitectura de Computadores y Automática, curso 2008-2009