Publication:
Cultura psicoterapéutica y autoayuda. El código psicológico-positivo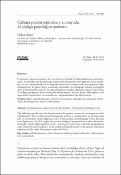 Authors
Advisors (or tutors)
Editors
Publisher
Universitat Autònoma de Barcelona
Abstract
El presente trabajo se enmarca en el contexto general de la individualización contemporánea. Se considera que la cultura psicoterapéutica forma parte del imaginario social moderno y se está constituyendo en un lenguaje moral que va adquiriendo una progresiva legitimidad social. En primer lugar, se analizan críticamente los principales trabajos sociológicos sobre la literatura de consejos. En segundo lugar, se estudia, siguiendo a Elias, lo que llamo el «código psicológico» dentro del género de autoayuda. Se parte de que dicho género es el equivalente funcional de los manuales de comportamiento que Elias analizó.
The following article has to be framed within the general context of contemporary individualization. The so-called psychotherapeutic culture is considered to be an important part of our modern social imaginary, and it is becoming a moral language with a growing social legitimacy. Firstly I analyse the main sociological perspectives on advice literature. Secondly I study, following Elias work. I investigate what I have called the psychological code within the self-help genre. In my understanding this genre is the present functional substitute of the codes of manners analysed by Elias.
Collections