Publication:
La manifestación: la normalización de un repertorio de participación política y protesta ciudadana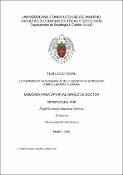 Files
Authors
Advisors (or tutors)
Editors
Publisher
Universidad Complutense de Madrid
Abstract
Esta tesis analiza las manifestaciones para determinar cómo de la normalización de la manifestación, dentro de la protesta, deriva en un uso que entendemos de participación política y protesta ciudadana. Para ello lo primero que planteamos es la hipótesis de estudio, según la cual se han convertido en la forma más utilizada para protestar, y participar en la vida pública, buscando demostrar cómo las formas de utilización han hecho que este tipo de repertorio, de acción colectiva, adquiera unas características propias de utilización en el caso español. Una normalización, de la manifestación, que tendría como consecuencia un proceso de ampliación de las convocatorias, dentro del aumento de la participación en estos actos, ya que aquellas son expresiones contenciosas (Adell, 2003, 2005; van Aelst y Walgrave, 2001; Jiménez, 2010). Lo que nos lleva a comprobar su uso amplio: proyectado, ordenado y estructurado en el espacio público (Tilly, 2000). Convirtiéndolas en acciones que generarían unas relaciones de poder (un proceso de construcción social al servicio de los actores colectivos) donde las y los manifestantes busquen colaborar en cada convocatoria. Se trata de comprobar si sirven, dentro de la contienda política, para crear una oportunidad para el cambio social mediante su construcción, y presentación en la calle, llevando aparejado a nivel cualitativo el darle credibilidad a la acción de protesta (Altheide y Gilmore, 1972)...
In this paper the demonstrations are analyzed to determine how its standardization derives from the use that we understand political participation and citizen protest. To do so the first thing we propose is the hypothesis: the demonstrations have become the repertoire most used to protest and participate in political. Then, the case study refers to its use: orderly and structured public space (Tilly, 2000). Where normalization of the demonstration results in an enhanced process of the calls and increased participation since those are contentious expressions (Adell, 2003, 2005; van Aelst and Walgrave, 2001; Jimenez, 2010). This is to find out if they serve to create an opportunity for social change, in which case it allows qualitatively lend credibility to their protest action (Altheide and Gilmore, 1972). First of all, we should ask: why do the citizens collaborate and call demonstrations? This investigation responds that the demonstration is a repertoire where, besides the technical aspects, collective action frames (a speech which guarantees the mobilization and revenue that can produce) develop. This configuration allows frames which shape the repertoire that develops in places of power (public places) marking the protester style (its performance). Consequently, demonstration is a repertoire that establishes implicit rules, however may resemble a conversation in a process of continuous negotiation. Groups or individuals can get together or can be denied their participation...
Description
Tesis inédita de la Universidad Complutense de Madrid, Facultad de Ciencias Políticas y Sociología, Departamento de Sociología I (Cambio Social), leída el 24-02-2017
Collections